If you haven't spent a night out at Yelm's Uptown Lounge, it might be time. The 21+ restaurant and bar, adjacent to the Yelm Cinemas, is Yelm's newest hangout spot and locals and visitors from surrounding areas are coming back for more.
Creative cocktails, Happy Hour specials, rotating food offerings and fun community nights (think Trivia Night and themed movie nights) keep things fresh while the friendly staff and convenient location top the list of reasons new visitors are becoming regulars.
General manager Vanessa Diaz shares that, "in 2018 we're going to expand our offerings so we're touching base with everyone in the community." And that means more partnerships with the adjacent theater for specially themed "dinner and a movie" nights including classic films and 80s hits.
The Lounge opened in the Yelm Cinemas lobby in 2015 after the owners of Prairie Park LLC, which also operates the theater and the Prairie Hotel, decided to expand their offerings. "They wanted to reach out to the community and give people what they weren't able to have on a regular basis," says Diaz. "If you weren't able to travel outside of Yelm, there wasn't any place like this." She's been with Prairie Park for six years and stepped into the management role in October 2017.
Since the Lounge opened, community response has been positive. "Business is good, and we get better because of feedback. It's been really well received." One reason may be the variety in the menu with new items featured monthly. Currently, they're working on incorporating gluten-free options as well. Like much of their beer, wine, and spirits, the meat is locally sourced from Yelm landmark Stewart's Meats, fruit is fresh daily and the Lounge makes their homemade buns, including their signature "brand" on top.
Crowd favorites include their award-winning Uptown Truffle Fries which come tossed in compound butter, roasted garlic, shaved parmesan, fresh parsley, truffle salt and are served with housemade truffle aioli. Mouthwatering, to be sure.
A current feature is the Uptown BBQ Port Sliders. House braised pork carnitas are drizzled with BBQ sauce and served over coleslaw on three mini brioche buns. Add to this a plate of the loaded potato skins – shredded cheese, Uptown Liquid Gold (you'll have to try it…), bacon, sour cream and green onions – and an order of Jumbo Chicken wings tossed in a sauce of your choice including BBQ, buffalo, Thai chili or traditional, and you have the makings of a perfect table of snacks to share.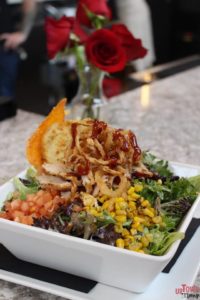 If you are looking for a more intimate dinner for two (or a couples night out) try Uptown's mouth-watering burgers or fresh salads (all of which can be made into a wrap). Upscale entrees include a New York Strip with tarragon butter or Cedar Plank Salmon with fresh vegetables.
No matter your eating style – snack attack or refined meal – you can pair your eats with the cocktail creations of  head bartender Alex Diffendaffer. He trains staff on the weekly specialty cocktails, but also offers infused vodkas and drinks including a Martini menu to suit any taste including classic, Manhattan, basil, Aviation, violet citrus and chocolate. The beer menu is rotated frequently with local and national offerings on tap. Happy Hour lasts from 3:00 p.m. to 6:00 p.m. daily and includes food and drink specials including Uptown's beloved street tacos and local craft beers.
On Tuesdays, the focus switches to trivia with heated team competitions on a variety of topics. Most recently, the subject was Star Wars in conjunction with the premiere of The Last Jedi. "For the Star Wars night, you had to have reservations," says Diaz. "It was packed." Line Critchfield, Yelm Chamber director, is the "Trivia Queen" and hosts the popular nights. Each week the theme is different. Some upcoming themes include That 70's Show, Tomb Raider, Motown, 90s R&B and Hip Hop, and Country Cowboys.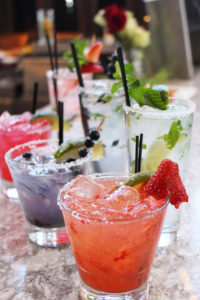 Diaz chooses the Uptown staff with care and it shows. Uptown servers are simultaneously professional and warm, memorizing the names and taste preferences of regular customers and enjoying their work. "I look for personality," she says. "It's very easy to see if someone's going to be compatible. They have a certain vibe. Our staff has a good, strong work ethic that they've developed on their own, and we also provide coaching and training."
In the coming year the Lounge will continue to add more offerings, says Diaz. "We want to do paint nights more frequently and we're working with the Cinemas on creating a date night experience. Now we have a great movie theater plus this unique dining experience. Our goal is to continue giving the community what they want," says Diaz.
To learn more about the Uptown Lounge, visit www.uptownlounge.com or call 360-400-3457.
Sponsored