Karaoke, stand-up, open mic poetry slams; we all dream of stepping on stage and taking the audience on a wild, emotional ride. For many of us that's all it remains ­– a daydream of encores to furious applause. But a few brave souls dedicate their lives to performance and it all pays off.
Gabriel Rutledge performed at his first open mic 17 years ago. A Capital High School grad, he now considers himself a "professional comedian, amateur husband and father." To hear his take on parenting, goal setting, celebrity, and life on the road, grab tickets to his upcoming show at the Washington Center for the Performing Arts on Saturday, February 24.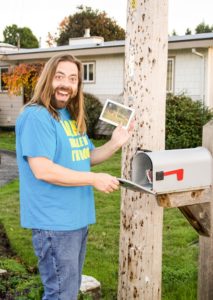 "Comedy has been my only job for a long time now, which has been amazing and sometimes terrible. It's like they say about being a professional poker player 'It's a hard way to make an easy living.' I do a bunch of Northwest shows which keeps me home, but I'm gone 10 to 12 days a month touring all over North America," says Rutledge.
His favorite part of live performance is simple: "When it's going well, it feels like I'm doing exactly what I'm supposed to be doing in life. That's a feeling that is almost impossible to duplicate off stage."
Audiences agree he's exactly where he should be. Over the course of his career to date, Rutledge has won the Seattle International Comedy Competition and Atlanta's Laughing Skull Comedy Festival, appeared on Comedy Central, Nickelodeon, FOX, and more.
Outside of stand-up, Rutledge is frequently on the nationally syndicated Bob and Tom radio show and has three shows available via Sirius Satellite Radio and 24/7 Comedy Radio.
But the road to fame is never easy and in his book Happiness Isn't Funny, Rutledge documents life through a year-long journal. "Most memoirs or autobiographies by entertainers are written by incredibly successful people looking back at the sacrifices and dues they paid on their journey to the top. I was interested in the idea of writing a book from the perspective of someone who was still in the middle. It's only called 'paying your dues' after you're successful. It's just your life until then."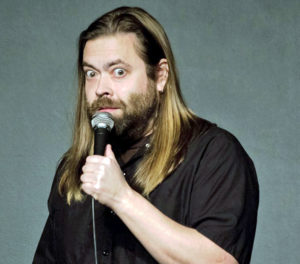 "I feel like when you're a comedian people either think you're way bigger than you are or way smaller. Either they think you wash dishes for the comedy club and sometimes they let you on stage, or they think because you were on Comedy Central once you're a millionaire hanging out with Dave Chapelle on a private jet. There was a website that listed my 'Celebrity Net Worth' at $1.7 million which was very exciting even though they were off by $1.7 million."
While private jets may not have materialized, Rutledge is happy—and some might say startled—by his success. "I'm not great with setting goals. One of the reasons is most of the amazing things I have in my life weren't planned or visualized, they just happened. Also, it's really hard to get pepperoni to stick to my vision board. I want to keep doing what I'm doing now, just at a higher and higher level. I'd love to do some more TV appearances. I taped something that will hopefully come out this year, and I've got a few irons in the fire."
This year's Washington Center show will be his third and promises to be full of laughs. After years as a husband, father, and comic, the material "is mostly true," he says. "It's exaggerated, but mostly true." And, it's chock full of observations and commentary on life as a parent and husband – one who lives right here in Olympia.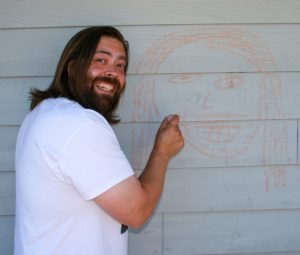 The show runs from 7:30 p.m. to 10:00 p.m. and tickets are available online or by calling 360-753-8586. Can't make the Olympia show? Look for upcoming dates on the tour calendar, find videos galore on his website, and blog posts with hilarious musings.
Follow Rutledge on Facebook for tour updates, appearances, and photos of his amazing cat Don.
Robin Williams once said that "Comedy starts as a spew, a kind of explosion, and then you sculpt it from there, if at all." The best comics sculpt normal, workaday things, effortlessly pointing out the absurdities of everyday life. For Gabriel Rutledge, this is second nature and the stage is his home-away-from-home.
Sponsored