In 2017, movie goers may take it for granted that they can reserve tickets online, pick their seats in advance and enjoy the comfort of a recliner while watching the show.
But in 2014, such amenities were far from the norm. So when locally owned Yelm Cinemas decided to upgrade and modernize their existing facility, it was cutting edge. "We wanted to be ahead of the curve," says assistant cinema manager Noah Aden. "Now it's very common for theaters to have those things but we were one of the first in this area. We're also one of a handful of theaters in Washington state that offers self-serve refillable popcorn and soda."
For film enthusiasts throughout Thurston County and beyond, Yelm Cinemas has become a destination, both because of its comfort and convenience and due to the proximity of the Uptown Lounge, a bar and restaurant located in the theater's former lobby. Although the Lounge is a separately owned business, the restaurant and theater work together for special events.
A case in point: the new Star Wars movie, The Last Jedi, which will have its premier on December 14.  For the occasion, 18 fully costumed characters from the film series will be on hand for photo opportunities and ambience. The lobby and hallways will be thematically decorated, the familiar movie theme will be playing throughout the theater and the Lounge will host a Star Wars trivia night as a warm-up on December 12.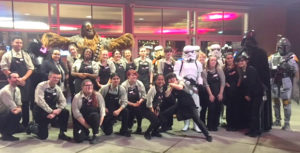 The costumed coterie is known as the 501st, a group of Star Wars enthusiasts that attends events en masse. They will also appear at the trivia night, no doubt creating a greater sense of fun and urgency for competitors.
This is the third successive year the theater has held such an event. The first, in 2015, was for The Force Awakens, followed by the debut of Rogue One in 2016. This year's event promises to be the biggest and best yet, says Aden. "Rogue One was bigger than the previous year, but this one is already huge in terms of ticket sales, decorations and the number of people who plan to dress up. It's also the first time we've added the trivia contest."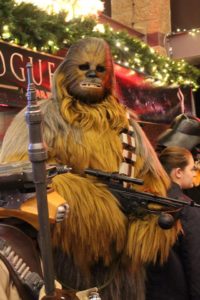 Many of the visitors will be repeat customers, says Aden. "We'll have a lot of people who have come to the event the previous two years. It's become a tradition for families and some groups of friends. Now it's part of our culture and people ask us about it. Our customers love it."
Aden, who describes himself as 'a really big Star Wars fan' came up with the concept when the first new movie in the series was released. He pitched the idea to the manager at the time. "I told him, 'I know people who like to dress up. Let's get them out here,'" he says. "That's how it started."
His favorite aspect is seeing children dressed up as various characters. "You'll see a little Darth Vader standing next to a really big Darth Vader," he says. "I've seen people cry and cheer during the films. It's a really emotional experience for me. When I'm in the theater with all of these fans, it's something very special."
Although the Star Wars premier is a stand-alone special event, the theater puts on some sort of evening for residents every month. In November, they worked with local non-profits to help get the word out about the services they provide, while also highlighting major movies like The Justice League, Thor:Ragnarok, and Wonder. From December 1-16 Yelm Cinemas is collaborating with the Family Support Center of South Sound to gather needed supplies ranging from hygiene products and paper towels to new clothes.
As for the investment they made in 2014, it's paid off. "All of the feedback has been very positive," says Aden. "People's biggest complaint is that they fall asleep in the seats because they're so comfortable."
For more information about Yelm Cinemas, visit www.yelmcinemas.com or call 360-400-3456.
Sponsored