As January comes to a close, many of us are trying to maintain our New Year's Resolutions made only weeks ago. Olympia's Mayor Cheryl Selby, however, hit the ground running in 2018 and is hard at work to achieve her dream for the city. ThurstonTalk had the opportunity to sit down with Cheryl to learn some of her top goals for the City of Olympia in 2018.
Addressing Homelessness with the Home Fund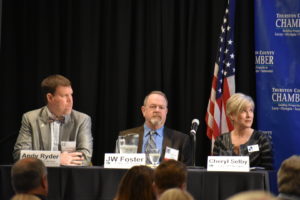 One of Mayor Selby's top goals – and one that she is especially excited about – is the ballot measure for the February 13 Special Election relating to the Home Fund. This initiative would be a 1/10 of 1% sales tax increase dedicated revenue stream to create more housing options and support, with an initial emphasis on permanent supportive housing.
Permanent supportive housing is a form of housing assistance that provides social services alongside physical housing to those who are experiencing homelessness/houselessness and cannot live independently, such as those with certain mental health issues or disabilities. A previous survey of Olympia citizens ranked creating more money for addressing homelessness/housing issues as one of the top priorities.
Increasing and Expanding Public Safety Resources
Selby is excited to see programs funded by a recent tax for public safety come to fruition throughout this year. In November of 2017, the City of Olympia passed a public safety measure that uses a property tax levy to help fund initiatives related to increasing safety, such as hiring eight new police officers, six of whom will be part of a 7-days-a-week downtown walking patrol. Selby emphasized that the officers receive in-depth training on what Olympia expects from "community policing" and that their roles is to be "guardians, not warriors."
The measure also funds a community court program aimed to help low-level offenders who may be entering the system for the first time, providing them with resources such as job training, housing support and medical assistance.
"We're breaking new ground for public safety in a community our size…we're always willing to try something new," added Selby.
Enhancing Arts, Cultural and Heritage (ArCH) Industries

Another initiative is ArCH, which will raise the profile of Olympia's arts, culture and heritage assets. Selby described this particular initiative as near to her heart and one of the reasons she became engaged with running for office. This includes items such the historic intact mainstreet corridor, Olympia's relationship with local indigenous tribes, and the arts including visual, performing, and other creative endeavors.
"I think sometimes [these industries] are not supported as well as they could be by the city," said Selby. "I think the city should take a role in making sure that those industries – because they are industries, they provide a huge economic impact – are honored and enhanced and provided more support to thrive here."
The City of Olympia has already brought in consultants to meet with stakeholders in these areas and determine what gaps currently exist. At the end of this quarter, the consulting group will present a report of their findings to the city council that will include short-term, low-cost fixes as well as a longer-range plan for funding these programs.
"Like a lot of downtowns, we struggle with big city problems. And by having more people come downtown to go to shows, go to galleries, shop for original local art, eat in restaurants and go to events, it will make downtown feel safer and more welcome," said Selby.
Preparing for Expansion and "Growing with Grace"
One other item high on the Mayor's agenda for this year includes planning for Olympia's continued population growth without losing our city's character. Seeing how her hometown of Bellevue's increase in population over the past several decades affected the feel and character of the city, Selby wants to mitigate that happening to Olympia.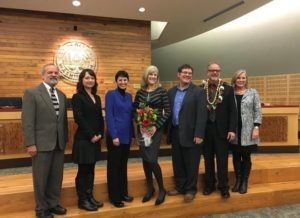 With all of these initiatives, programs and changes, what is Mayor Selby's long-term vision for our city? If she were to put Olympia on a post-card, what would it would represent?
"Safe and welcoming for all, with sustainable growth that does not diminish our grittiness and who we are. And that 20 years from now, you can walk out of any building downtown and still know where you are – so that sense of place never goes away."