Mayor Cheryl Selby has been a welcoming ambassador for the City of Olympia long before she held public office. I met Cheryl when I arrived in Olympia as a young mother in the summer of 1997. She welcomed me to the community and shared her tips on what were the best parks for kids, where to find family restaurants, and she even introduced me to her friends. We had both moved to Olympia from Seattle, in search of better schools, less traffic, more affordable housing and cleaner air. She was a volunteer extraordinaire in those days. She served on several boards and was active in her children's schools. In 2003 Selby co-chaired a successful school bond, which further served to strengthen the community's commitment to our public schools.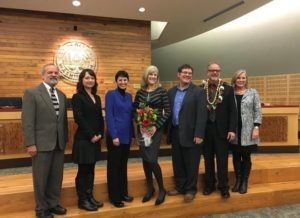 Olympia has grown over the past twenty years, and people continue to move into the area to take advantage of Olympia's top rated schools, clean air and quality of life. Cheryl is still here to welcome them but this time as Olympia's mayor since her election in 2015. Cheryl won the election with a resounding 68% of the vote. She ran as a pro-business candidate and was the only business owner in the race.
Selby opened her women's clothing store Vivala in 2006 and shortly thereafter included a second location in The Valley Athletic Club. "The creation of Vivala was about adapting to change," shares Selby. "It was the vehicle to the next phase of my life – serving the city of Olympia," she adds. Selby acknowledges that the disruption in the retail sector is real. The impact of online shopping and the "Amazon effect" made her current business model unsustainable. "I briefly contemplated doing a total reset on my business model, but I quickly realized that I wanted to harness my energy for my work with the city," explains Selby.
While her Market Centre location is closing, Selby remains optimistic about the viability of successful businesses in downtown Olympia. "I just don't have the bandwidth to run two stores but am happy to report that the space will be filled with another local business." The Vivala Pro Shop at the Valley Athletic Club will remain open and serve its many loyal customers.
It only takes a quick drive through downtown to see that there are new businesses opening up each month. The City of Olympia under Cheryl Selby's leadership has acted to create a downtown strategy. "The City of Olympia is so good at processing change," explains Selby. "We do community outreach better than any other city I have seen," she adds. Olympia has planned for "growth with grace" by adopting a plan that has been fully vetted by the community and accounts for a projected 40% growth over the next twenty years.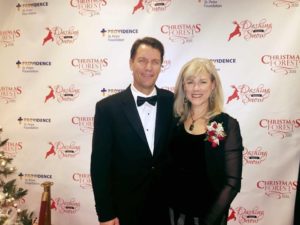 Renee Sunde was hired in 2015 as the first Economic Development Director for the City of Olympia. She serves as a liaison between business and the city. "Renee is our eyes on the street," explains Selby. "She is looking for the gaps in our retail offerings and encouraging those businesses downtown."
When community members were asked what was most important to them about the future of downtown, their responses were about "keeping the main street feel." We have an intact downtown corridor, and citizens want to retain that sense of Olympia that is uniquely ours. It is important to the community and to Mayor Selby that housing continues to remain affordable. "We want to make sure that the first year teacher and young family can buy a house in Olympia," shares Selby. The current level of private investment in downtown Olympia is encouraging. There is a lot of energy around private/public partnerships. Good design and great ideas are quietly turning our downtown into a vibrant and exciting place to live, eat and shop.
Selby is the first female mayor to be elected in Olympia. Prior female leadership was appointed by the city council. In fact, there are currently four women and three men on the Olympia City Council. "Female leadership is so important," shares Selby. "We are collaborative and co-creators." Mayor Selby has also created regional partnerships with Tumwater and Lacey. They meet regularly to share ideas. These regional partnerships ensure that these three sister cities are making the most of available resources and ideas.
Cheryl Selby has come a long way since she arrived in Olympia in 1994, but in a sense she really has not changed at all. She is still Olympia's biggest cheerleader and the best welcome wagon any newcomer could ask for.