Last year, Black Hills High School wrestling head coach, Malembe Gonzales, approached Kristen Olson and a few other girls about joining his team. "He really wanted to start a girl's team," Olson explains. She had been a competitive swimmer her freshman and sophomore years and decided to give wrestling a try. Olson ended up being the only girl who showed up, but she did not mind. "The guys were a little weirded-out last year," she says and some seemed to treat her a little differently. "But not this year." Now, she and the other two female wrestlers in the Black Hills High School program are just part of the team.

What differentiates wrestling from other sports for Olson are the workouts. "They are a lot harder. It's mostly cardio and it's nonstop." Though she did not win her first match this season, she felt good about her performance. "I did so much better than last year," she shares. "I really want to medal this year. I've been working really hard."
"I'm excited about adding girls to the program," says Gonzales. He has been coaching at Black Hills for 11 years, with five years as head coach. During that time, they have had girls wrestle once in a while. This year, there are three girls on the team. Olson is a junior. Two freshmen, Carlina Portugal and Olivia Toussaint, are new to the team. Gonzales is glad to have the girls join, especially early in their high school career as that gives him more time to work with the athletes on their skills. "The first step is getting them back each year," he says.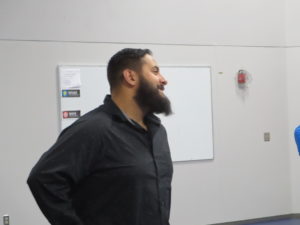 Friends in Rochester encouraged Portugal to participate in club wrestling when she was in sixth grade. "Wrestling is big in Rochester," says Portugal. In seventh grade she wrestled for Tumwater Middle School. "I was pretty decent," she adds. Portugal will compete at 230 lbs. this season. She works hard at practice. All the drills, running, stretching and 20 minutes of weight training with the rest of the team, are helping her build fitness and develop her skills. Although in the past she has wrestled against boys, this year she will be competing against girls. Gonzales is confident Portugal will do well in competition once she meets her weight goal.
"Right now, I'm just trying to make sure I eat the right things, stay motivated to push myself, and keep track of my schoolwork," says Portugal.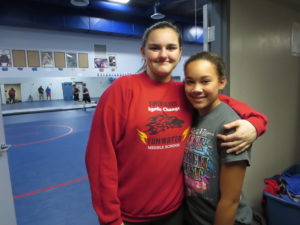 Toussaint's stepdad encouraged her to join wrestling. "I also wrestled with my older brother, and I liked it," she says. In middle school Toussaint played volleyball and basketball and participated in competitive cheer. This year she is on the Black Hills' cheer team and involved in wrestling. Most days she goes directly from wrestling to cheer practice. Wrestling practice sometimes conflicts with cheering at games. On those days she misses practice, but Gonzales understands. "Toussaint is doing everything ­– wrestling, cheer, keeping up with her schoolwork."
At their first meet, Toussaint won one match and lost the other. She competes at the 110-115 lb. weight class. "She got a 30 second pin in her first bout," the coach says.
"The win felt good," Toussaint smiles, "and I learned from the loss." She plans to continue to build her skills and challenge herself on the mat. "Most of the drills are really tough," she adds, but she does them with a smile.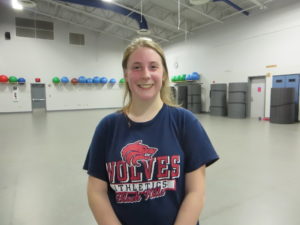 Olson would recommend wrestling to other girls because the sport builds physical and mental strength. "With boys on the team, they don't take it easy on me," she says. "I feel like wrestling makes me tougher. It's so much more physical than other sports." The one-to-one competition has built her inner strength as well. She plans to wrestle again her senior year. After that, Olson wants to go into social work where the mental and physical resilience she is developing through wrestling will likely serve her well.
There are more girl wrestlers coming up through the Tumwater schools and the club wrestling programs so Gonzales is looking forward to additional girls joining the BHHS team in the future. His two daughters are in youth wrestling and there are several girls wrestling in middle school this year.
Though they compete against other girls at matches, the BHHS girls practice against their male teammates. "They wrestle with boys here, so when they compete they are even stronger," Gonzales explains. At practice there is no distinction between the boys and the girls. They all do the same training and drills. "We treat them all like wrestlers," he says.
He says that as a team, they will all focus this year on growth. "We just want to learn, get better and improve in the sport," Gonzales shares.