The first time you walk into Tipsy Piano Bar in downtown Olympia you might not know what to expect. You may have heard friends talking about their great cocktails, delicious food and cool vibe, but haven't experienced it for yourself. Owners Jenna and Jonas Rodriguez say their bar often gets mistaken for being a formal restaurant, but the downtown piano bar is exactly what they envisioned. With their swanky seating, subdued lighting, live piano playing and great food, there is a lot to take in – and a lot that is offered. Tipsy is truly like nothing else Olympia has ever seen, and that's on purpose.
On Friday and Saturday evenings you will be greeted by a doorman, however there's no cover charge and definitely no dress code. Also, don't expect someone to seat you at a table. As Jenna explains, this is intentional, matching the atmosphere they aim to create. "It is first come, first served," she says. "You walk in the door and you seat yourself wherever you're comfortable."
Scout out a table, pick out a drink, and either wait for your server or head to the bar yourself. Your server won't mind. Simple concoctions – rum and coke or gin and tonic – are quickly made. However, Jenna shares that "craft cocktails take longer to make. Everything is mixed, muddled, strained, poured to order. Some cocktails might have ten ingredients." Jenna suggests relaxing in the plush seating while your server waits at the bar and delivers your refreshments to you.
Tipsy does not take reservations, something that surprises some. "In a bar environment, it's hard to time when people are going to finish their drinks and when they're going to be done enjoying the piano." However, for parties of twenty or more they can reserve space. Jonas adds, "We want to make sure we have everything ready for a large party so we can give them great service." For these larger groups, guests can also pre-order appetizers to make service smooth and fast.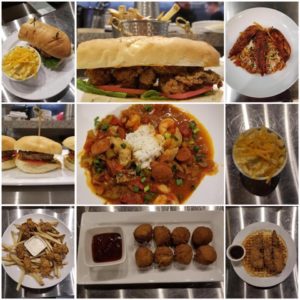 When it comes to food, there are plenty of options. Jenna shares that she hears people think they only have fried food, but that's hardly the case. On the Tipsy menu you will find wonderful salads, jambalaya, red beans and rice, traditional Po'Boys, sliders, a custom grilled cheese and many other choices. If you have special dietary restrictions, Jenna says to just ask. "We have plenty of options. Our chef is amazing and will go above and beyond to serve people. Everything is made from scratch – the drinks and the food. Even the chicken strips are hand breaded, which does mean food takes a little longer."
While you wait for those outstanding cocktails and homemade specialties, enjoy live piano music every evening at Tipsy, kicking off around dinner time. Each musician has their own style. You might hear jazz or classics one night and ragtop or rock-n-roll the next. It all depends on who's sitting at the bench. On Friday and Saturday evenings, you can even sit at the piano, offering requests, too.
Sundays are special at Tipsy as they open early for Seahawks game viewing. Plus, they offer Happy Hour all-day with game-day specials, too. Jonas says it was unanimous to offer games. "Everyone is looking for a great place to watch the game." Also on Sundays, Tipsy stays open late so guests of the Olympia Symphony Orchestra can stop by after the show. With a ticket in hand, they'll receive a free appetizer just for stopping in.
There are many sides to Tipsy Piano Bar and that's ok. In fact, it's what makes this new downtown restaurant and bar so great. My advice? Enjoy it for what it is: an upscale bar with great food, creative cocktails, live music and a wonderful group of people running it. "We created an environment that we wanted to hang out in, ourselves. People come in and fully enjoy themselves. They're seeing our vision and that is so exciting," Jenna says. Jonas agrees. "It's great to watch people loving this place as much as we do."
The community has supported Tipsy in their first months and they are giving back. During the month of October, half the proceeds from their daiquiri sales were donated to the Ovarian and Breast Cancer Alliance of Washington. Up next is their Turn-Up for Toys event on December 2 where guests can enjoy a variety of piano players together for one night, while helping those in need this holiday. With a toy donation, guests receive a free appetizer or dessert in return. Watch Tipsy's Facebook page for details.
Sponsored