I drive a Toyota Sienna and I love it. I'm a mom of two but I'm often hauling around a few extra kids and my "mom van" is the perfect ride for my school-work-store-soccer lifestyle. While my van is as reliable as they come, it still needs oil changes, tire rotations and the occasional larger service appointment for mileage milestones.  For these, I visit Toyota of Olympia. It was during one of these recent longer appointments – the 120,000-mile service – that Calvin Singleton, assistant service manager on the Green Team, showcased what the true meaning of service really is.
I dropped my Sienna off in the morning and had arranged for a co-worker to pick me up. I needed the car back by 3:00 p.m. to pick up my children and carry on with the day's errands. I met with Calvin, reviewed the list of services for the day, and agreed to touch base later. On that list was the replacement of my spark plugs, standard at the 120,000 service appoitment. What isn't quite so standard is the extremely difficult location of those pesky spark plugs.
When we touched base later, Calvin informed me that the techs needed more time to dig deep into my engine compartment, accessing the plugs. As a dad himself, he understood perfectly my need to pick up my kids on time and the hassel that not having a vehicle can create for a busy parent. Instead of excuses, Calvin offered solutions. I took my almost finished van home that afternoon and successfully completed the afternoon carpool gauntlet.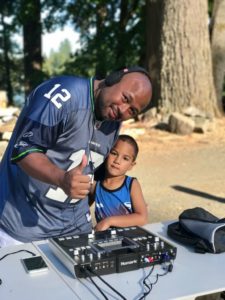 The next morning, Calvin came in early to work and took the courtesy shuttle all the way to my Boston Harbor home. He personally drove my van to Toyota's new Tumwater location where the techs completed the spark plug replacement. He then drove the Sienna back to my home, parked it in my garage and handed me the keys. All by noon. It was even washed and vacuumed.
This is service.
And, this is not unusual.
Calvin Singleton exemplifies the Toyota of Olympia philosphy of putting people first.  The team in the service department truly cared about my situation and did all they could to ensure my family's schedule was not disrupted. They treated me as if I was one of their family.  And, when you are a customer of Toyota of Olympia, you really are part of the family.
Calvin joined the Toyota "family" three years ago after nearly a decade with Les Schwab. He credits his time at the family-owned tire retailer for instilling in him a spirit of service, one that is echoed by the entire team at family-owned Toyota of Olympia. "I've always been around cars," says Calvin. "And this was a natural next step for me."
Calvin is married and has a five-year-old son, Daniel, and a two-year-old daughter, Maleah. The family man loves his kids and realized "the hard way that I needed to put family first." This realization led him to Toyota of Olympia.
"I absolutely love being here," he says of his work at Toyota. "I love talking to people, learning about their lives, hearing their stories. I must talk to 20 or 30 people a day and every single story is different. I want to hear each and every one."
He relates a few of these stories to me: the mom whose husband is deployed and is juggling it all; the newlyweds building a fresh, new life; the widow learning about her vehicle alone for the first time; the customer who drives in from Aberdeen, just to see their Toyota "friends".
Working together with his Green Team partners, Tony and Eli, Calvin strives to educate and inform each customer while at the same time listening. "We always tell our customers the truth, no matter the money situation. We won't sell them something they don't need, and we'll always try and give them the best value," he shares. "Often, if you just listen, you'll hear what the customer really needs and sometimes it's more than an oil change, it's a bit of understanding and compassion, too."
The services staff puts people first – a philosophy that is taught from the top down. "Of course, like with any business, the bottom line matters," admits Calvin. "But, at Toyota, we really care more about the customer relationship and how people feel when they leave here. Joe reflects that down to us. And, when people feel good about their service, they return. They become part of the family."
General Manager Joe McCorkle is who Calvin is referring to, leading the charge to ensure every customer knows they are valued and their experience is top priority for everyone at Toyota of Olympia.
I returned just the other day to see Calvin for a warranty enhancement on my sliding door, something Calvin had let me know was available on my Sienna and took care of ordering the parts in advance. The process couldn't have been smoother and I was back to kids, carpool and chaos in no time.  And, as always, they vaccummed all the goldfish crackers up for me, too.  That's priceless.
Visit Toyota of Olympia at their new Tumwater location at 6969 Tyee Dr. SW. or call them direct to book your next service appointment at 360-539-4000.
Sponsored