Set against the waters of the Hood Canal, under the shadow of Mount Ellinor and Mount Washington, an award-winning distillery awaits your visit. For many of us, a trip to Hood Canal means hiking incredible trails, catching spot shrimp, fishing, camping and staying at the Glenn Ayr Resort.
Enjoying the beauty and recreation, we often long to treat our taste buds to the same incredible experiences that our eyes and souls encountered during the day. It is then, after an adventure, that those in-the-know find themselves heading to Hoodsport's Hardware Distillery Co. for the perfect drink to unwind after a memorable day.
With their spirits aged in the basement, The Hardware Distillery Co. is quickly becoming one of the best destinations for spirits in Washington. Passionate about their jobs and eager to help out, The Hardware Distillery's owners, their wide selection of drinks, amazing tours and friendly, informative tasting room make this the perfect post-adventure stop when exploring the recreation wonderland of the eastern Olympic Peninsula.
Hoodsport has a long history of making sought after spirits. During prohibition, the region was home to a notorious bootlegger, who went by the name Dick Shively. A former policeman, he turned to a life of crime in the 1920s, robbing banks and becoming one of Hood Canal's most sought after criminals. Arrested in 1928 but set free after a mistrial, Shively returned to Hoodsport and continued his illegal distilleries.
By 1929 Hoodsport was a hotbed of bootlegging action with many community members joining in the business. While some were arrested and were forced to use their money for bail, the town continued to revel in illicit activity, opening dance halls and taverns until prohibition was reversed in Washington in late 1932. It is with that history and zeal for quality spirits that The Hoodsport Hardware Distillery Co. makes its amazing drinks today.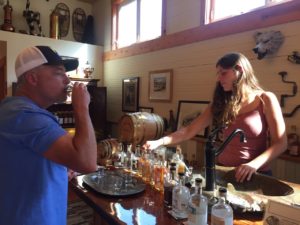 The Hardware Distillery Co. is located in a building that has been around since those bootlegging days. Originally constructed in 1930, the storefront has seen numerous owners and shops, becoming the distillery in 2012. Since then, the business has been selling and giving tastes of incredible spirits to curious visitors and locals alike. Using grains that are grown in Washington State fields, fruit grown in Washington orchards and honey from Washington beehives, the distillers provide numerous options of drinks you can taste and buy in the store, which are perfectly Pacific Northwest.
One of the most unique drinks you can taste and pick up at The Hardware Distillery is what they call "Bee's Knees." Bee's Knees is a distilled mead (say that ten times fast), and is made from 80% honey and 20% fruit. Distilled until it is no longer mead, the liquid is rested for three months in new, white American oak with a medium char. After that process is complete, it becomes a truly unique spirit.
"We are one of the very few US distilleries making a distilled mead, and when we applied for a label for this unique spirit, the federal permitting agency told us that we were not making a brandy or anything else that they could define or pigeonhole," explains The Hardware Distillery. "What we were making was something unique to us, and we had to find a unique name. We chose Bee's Knees because it's made from bee honey, and it is truly the Bee's Knees, an extraordinary spirit."
While it takes over a pound of honey to make a 375ml bottle, the Bee's Knees does not taste overly sweet. Offering five flavors of Bee's Knees, including the incredible Merry Cherry and Peachy Keen, the distillery is sure to become a favorite after a day of adventures. The Bee's Knees is not the only unique drink offered by Hoodsport's famous distillery, however. They also sell specialty spirits that include five dollars of every bottle sold going to support the local fire department and the kitten rescue of Shelton.
The Hardware Distillery also distills more traditional drinks like whiskey, gin and vodka, each of which can be sampled at the store during their tasting hours. Both kid and dog friendly, the tasting room is the perfect way to gain an appreciation for the quality spirits being created on-site. During the summer the tasting room is open daily from 10:00 a.m. until 6:00 p.m. Once Labor Day hits, winter hours kick in, with the tasting room open Thursday, Friday and Sunday, noon – 5:00 p.m. and Saturday 10:00 a.m. – 6:00 p.m. Tastes are offered for all visitors 21+. If tasting is not enough, you can set up a tour by contacting the staff at Hardware.
The Hardware Distillery Co. is another example of the many great businesses flourishing along Hood Canal and in Mason County. Next time you are in town, stop by, taste a few of the stellar selections and grab a bottle or two. Distilled with love for the craft and the region, the spirits from The Hardware Distillery Co. will have you reminiscing about your time exploring and relaxing at Hood Canal, allowing you to drift back to the majestic wonders of the region, one sip a time.