Tucked away in the foothills of Capital Forest, a quiet respite for your four-legged friends is awaiting your discovery. It is easy to miss Sherman Valley Ranch driving by because it is nearly invisible beneath a canopy of trees and sits hidden back from the road. But once you arrive, it is not going to be that easy to leave.

Purchased in 2014 by Pam Ward and Joe Tucker, the twenty-five plus acre, horse boarding facility was a dream come true, one that could include more than just the two of them. With a beautiful main home and a caretaker's apartment attached to the barn, it was the perfect setting for what they had in mind.
Pam made the offer to her son Steven Cox and his fiancé at the time, Destiny, to renovate the small apartment into a home for themselves and their four children. Not everyone would jump at the chance to live where the cell reception is spotty and the nearest gas station is almost ten miles away. Destiny and Steven did not shy away from the opportunity to live rurally, however.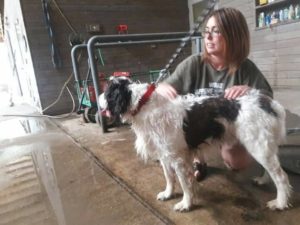 With horses literally out their front door, three creeks flowing through the property, a pond and acres of land to explore, the couple knew this was where they wanted to raise their family. "The kids can just go run and play outside all day long. If I yell out my door and say, 'Kids, it's time to come in,' they just come running. I don't have to worry about what they're doing or who they are with," Destiny explains. "It is the kind of atmosphere where I could see myself ringing a bell for dinner."
With so much room it is only fitting the family would have animals of their own, including a pot-bellied pig named Beatrice. But for Destiny, she has always had the biggest soft spot for dogs. With two of her own, she is no stranger to taking care of man's best friend. So with the help of family and friends, she renovated the dog kennels on the property and opened The Dog Lodge at Sherman Valley Ranch. "I love dogs, and I've always had them as a part of my family. I also have young kids, so it's really nice to be able to be home to get them on and off the bus every day. And they love seeing the dogs every day, too," Destiny says. Even as we sit talking in her office, we have to stop and tell the kids which dogs are still there that day and who has gone home. It is obvious the Dog Lodge is a family affair.
Currently, Destiny says they have room for ten dogs, but they plan to expand soon to include up to eighteen. Because she wants to keep them as comfortable as possible, the dogs have air-conditioning for the hot days and heat for the cool ones. But the best part is that these dogs do not just stay cooped up in a kennel all day. At The Dog Lodge getting outside is top priority. "I try to let them out constantly, all day long. That way they have fresh air and can run and play. During the summer I put pools out to help keep them cool, too, and they love it," Destiny explains.
With two huge, fenced runs outside, it is easy to get the dogs' energy out. This is one of the reasons Destiny does not have weight or breed restrictions at her facility. "I take all small dogs, all big dogs and everything in between. We just take them all," Destiny says with a smile.
It seems this business fits perfectly into Destiny's life so well because she truly does love these animals, that much is obvious. Sometimes it is hard for animals to be away from their families, so Destiny makes sure to give each one special attention with treats, pets and whatever else they and their owners need.
"I think I just have a really big heart because I truly do care for the dogs a lot. As soon as they come in, I can't wait to see them, pet them and love on them. I also try to keep their owners updated the best I can either by sending pictures and videos or a quick text to say how great they are doing," Destiny shares. And she does not stop there. She will administer needed medications, feed specific foods and even give "going home baths." She also always leaves the radio on, so they never feel alone.
With such specialized care and a whole lot of love, it is no wonder The Dog Lodge at Sherman Valley Ranch is already getting repeat customers and raving reviews. "Of course, the dogs are super excited to go home, but they're also super excited when they get here. They want to come play, explore the smells, and they know where they are. Some people bring their dogs for just one or two days. Others leave them here for ten. It just depends on what they need," Destiny explains. She tells me she is already booking well into the winter when so many take vacations to escape the rain.
Although it may be a lot of work being open seven days a week and caring for so many animals, it shows by Destiny's constant smile how much she loves doing it. "It's so much fun to see all the different dogs and interact with them. There are so many different kinds, all with unique personalities. I just love them," she smiles.
If your dog needs a vacation, or you do, it is well worth the scenic drive to see what The Dog Lodge at Sherman Valley Ranch is all about. Just make sure your furry friends are up to date on all their vaccinations before you arrive.
Not only does Sherman Valley Ranch provide dog and horse boarding, they are also a popular venue for weddings, baby showers, birthday parties and everything in between. Visit their Facebook page for more information.