If you have lived in the Olympia area for any length of time, you probably have heard of Eagan's Drive-In and their famous Goop sauce. But what you might not realize is this family tradition spans three generations and goes back almost seventy years.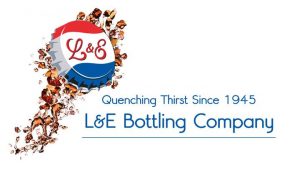 "My grandmother started it back in 1948 on the east side of Olympia. And I still try to do things the way my grandmother did when she first opened," Tim Eagan tells me as we sit down in the current Eagan's Drive-In, located in Tumwater. "I have people come in and tell me, 'I travel all over the world, and this is the best burger that I've ever had, bar none from anywhere.'"
The original Eagan's Drive-In menu offered traditional favorites like burgers and fries along with Grandma Millie's secret Goop sauce. This helped it earn the reputation early on as a destination for diners, so much so that Tim says his grandparents decided to open a second location on the west side of town.
Unfortunately, when the two later divorced, the drive-ins separated as well. Millie took the east side one and her ex-husband the west side. However, eventually Tim's father decided to try his hand at the family business by opening his own Eagan's Drive-In. Located on the corner of Custer and Cleveland in Tumwater, it quickly became a landmark, successfully serving the community for a number of years.
After helping to run his dad's Eagan's for quite some time, Tim was approached about opening his own restaurant in a different location. "So I came in and opened this place up, and I've been going strong for twenty years now. When my dad's place closed, I became the last family member in the business; no one else is still doing it," Tim explains. And, judging from the line of cars at the window, he is doing it well.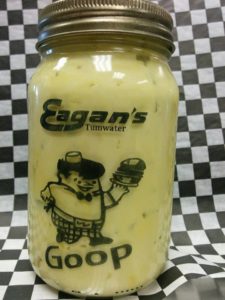 On the menu you will still find Grandma Millie's favorites, but customers can also choose from a variety of new options including salads, chicken, fish, shrimp and even espresso.
In fact, Tim says you will not find Eagan's Drive-In skimping on anything. All burgers are made with 100% beef, no fillers, and the bacon is extra-thick. Traditionally, these mouthwatering masterpieces come with a 1/4 pound patty, Goop, pickles, lettuce, and tomato, all on a white bun. "Everything is made to order; we do not pre-make anything. You won't find us using microwaves or steam tables. It takes seven to ten minutes to make the food because we want it to be good. If I won't eat it, I don't expect my customers to eat it. Just come in and try our food; our Goop will keep you coming back," Tim suggests.
Tim did take one risk in his own restaurant, however, even breaking family tradition. "My family has sold Pepsi products for years and years, but when I came into this, I went with Coca Cola." But recently, however, he has gone back to his roots, switching things over to L&E Bottling and Pepsi because of their great customer service. "What's great about L&E is that they are a local company, and if I need something I can call them up, and they'll get it to me in fifteen minutes. I'm sure Grandma would be just tickled that we're back to Pepsi," Tim smiles.
There is probably much more Grandma Millie would be happy about including the way Eagan's Drive-In supports its community. Whether it is hosting a local fundraiser or donating to Black Hills, Tumwater, and Olympia High School sports teams, Tim says he enjoys giving back. "You're serving the community, and it's just the right thing to do, helping out and doing what you can, because every little thing counts." It is that level of care about not only his business but also the community that keeps the customers coming back.
Owning a restaurant is hard work, but Tim says he honestly cannot imagine doing something else now, even though he has tried his hand at different careers. "I don't think I could work for anyone else at this point. I like talking to the customers. I like everything about it. I like the speed of things and the flexibility of owning my own business." As for whether the tradition will continue with his own children, Tim suggests that only time will tell. "Maybe down the road one day they'll want to come back into the business. For now, they're doing their own thing, and that's ok."
And although Tim has considered expanding his business, he says he is very comfortable with where he is right now and the balance between work and home life that he has established. "It's not like you're going to get rich and retire at the age of forty-five or anything like that doing this. It's still just a hamburger, but I have to say it's a really good one."
And I think most of his customers would agree.
You can find Eagan's Drive-In at 6400 Capitol Blvd. SE in Tumwater, open every day from 10:30 a.m.-8:00 p.m. They are also a part of Uber Eats for those who want their Goop delivered.
Sponsored