Dr. Bruce Higdon has taught at different schools and worked in many industries, but when it comes to making a difference, nothing in his experience matches Charter College. "It's so much fun to watch the transition as our students change," he says. "I get caught up in their success. This is the best place I've ever been as far as changing lives."
Dr. Higdon is the campus manager at the college's Lacey facility, which opened in 2015. The Lacey location currently offers two ten-month certificate programs that train students to become medical assistants and pharmacy technicians. "Our programs train people to get ready for those roles," says Dr. Higdon. "We teach them professionalism as well as the skills necessary for the job. It's about getting them to a place where they can change their lives as well as the lives of their families."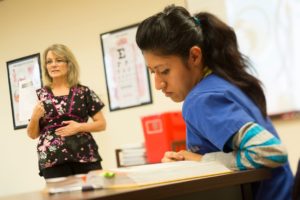 Currently, the health industry remains one of the top employers in Thurston County according to the Lacey Chamber of Commerce, with a growing number of major providers expanding and moving into the area. "We're fulfilling a need," says Dr. Higdon. "We communicate with the industry all the time, both locally and throughout the country, to make sure we're providing sufficiently trained people."
"We have an age span of 18 to 38+. There are so many people who didn't want to go the traditional college route and now they're looking to make a change in life. Maybe their kids are in school now and they can get trained to make a decent living and have a professional career."
Many start out lacking in confidence and intimidated by the idea of college, but the program allows them to grow, he says. "We've had so many success stories. Someone may start out as a wallflower and by the end of ten months they're a completely different person. It's amazing the number of people who don't have computer skills, but we take them through the technology they must use in the workplace. Once they figure out that college isn't something to be feared, the lights go on."
The ten-month program ends with an externship at an professional externship site in the community. "The student spends their externship working in a real business in their field of study, practicing the skills they've learned during their program," says Dr. Higdon. "Students are onsite and have the opportunity to work with experienced people in their field of study. Often they get hired by the same business where they participate in their externship. The relationship building component is strong."
For some, the program becomes a springboard for continuing education. "Our main goal is for them to get a job when they graduate," he says. "Ideally, they'll have a certificate, get a job and then decide to get more education. They can start here and keep going if they want to. Quite a few move on to earn an Associate's Degree and some have gone on to work on their Bachelors."
Charter's Lacey campus faculty includes two veteran medical assistants. "Between the two of them, they have 50 years of experience," says Dr. Higdon. "I like to think we have the two best instructors in the company." The pharmacy technician instructor is a former military medic. "The students just love all of our faculty," he says. "They're very knowledgeable and their focus is on the students. When they know that you care, they're more likely to learn what you're telling them."
Each year the college holds two commencement ceremonies, one in March and one in September, depending on venue availability. Upcoming graduations will be held on September 15, 2017 and March 2, 2018 at the James Koval Center for the Performing Arts on the North Thurston High School campus. "It's perfect for what we do," says Dr. Higdon.
Dr. Higdon had been teaching a course on success at the college's Fife campus when he was recruited to move to the Lacey facility. Eventually he was promoted to campus manager.
"This is a remarkable business to be in," he continues. "Our customers are the students, the employers, and the community. Every step of the way, we're changing lives. We have students that never quit and never give up. There are so many great stories."
For more information visit Charter College's Lacey campus online or call 1-888-200-9942.
Sponsored