Marz Doerflinger never thought she would get another chance to be an artist. In 1983, she earned a Bachelor of Fine Arts degree in painting and animation. For more than a decade after that, she lived and worked as an artist, painting watercolors and doing graphic design and set design for PBS. However, when she had a son, she quit art to raise him. For the next 20 years she stayed away from it. "I couldn't concentrate on my work and raise my child because I get so into what I'm doing, I don't hear things around me," she says, "Hours go by and the world could fall down, and I would have no idea."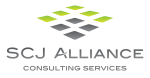 However, a year and a half ago, Marz stumbled across a painting in a small gallery in Winslow, Arizona, that reignited something within her. "I don't know what it was about it. I had to have that painting, and I bought it and I brought it home. And there was something about that piece that just made me want to paint again," she says. She had no plans to return to art in any official capacity, all she wanted was to "buy some paint and just play with it," but once she opened the door, that was it. "It just felt like I'd come back to where I belong," she explained.
The process of returning to the art world was quick for Marz. "I have been an artist since I was old enough to hold a crayon, so I think it's kind of in my blood." This intuitive connection with art made it so that, even after 20 years away, she knew what to do. "I started selling. I started getting commissions. I've won some art shows. I was selected for a residency. It just ballooned really quickly," she says, "And the funny thing is the painting I bought looks nothing like what I'm painting. Nothing at all."
Before her hiatus, Marz had been primarily a watercolor painter, but since her return she has found a new preference for oil and cold wax. "I like the cold wax because it allows you to get this nice textural effect. It gives a luminosity, and it is a little bit unpredictable." Cold wax, which is applied with a palette knife rather than a brush because of its thick consistency, cannot be completely controlled. To Marz, this is a benefit; she likes to see where her media will take her.
"To me, painting is a form of storytelling," she says. She believes it is important to let the viewer fill in the details of the stories the painter begins to tell. "My idea is that the viewer's mind is never wrong. If you put in a detail and it's wrong, they know instantly. But if you can get their brain to fill in the details for them, it will never be wrong." This is why she prefers to paint landscapes rather than images with people or human-made structures; much more is left up to the imagination of the viewer.
She describes herself as a "Northwest impressionist." She draws inspiration from the natural beauty of the Pacific Northwest – many of her paintings feature evergreen forests, mountain ranges and marshlands – which she filters through the lens of impressionism. "Impressionism is all about trying to capture the sense of light," she says. "Everybody interprets that differently."
She is inspired by the Pacific Northwest both because of what there is to see and what there is to do. She is an athlete. "Most of my ideas come while I'm out cycling or running or kayaking. [My mind] is churning back there and the physical activity kind of lets it loose," she says. "I'm into having that physical experience and translating that into more of an emotional experience."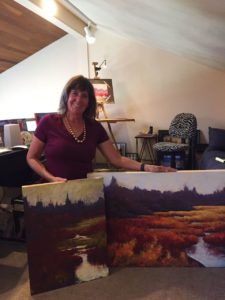 In fact, one of the most important things Marz has learned, and offers as advice to aspiring artists, is that leaving the studio is sometimes vital. "I see a lot of people get so involved in doing their art that they forget that art is actually just an expression of a story to tell," she says, "You have to go out and live that story in order to have something to tell."
Her other most important piece of advice is one aspiring artists probably hear a lot, but for good reason. Marz says to practice every day, and not just complicated things, but also the basics. "You don't even have to do anything special. Even if it's doodling, the important part is the consistency. I think a lot of people are afraid to practice because they think they might be practicing wrong. But it's moving you in a direction. It's working on eye-hand coordination, it's working on your familiarity with the equipment you're using and the media you're using, and it's teaching you good habits."
This advice comes from experience. Marz is currently working on a series of 100 paintings of the same subject, Olympia's Grass Lake. "For that subject, I am taking it in all different directions. I'm doing different sizes, different mediums, different color stories." With every painting, she learns more about her tools and about herself as an artist. "The subject, to me, is like the bones of the painting. However I decide to paint it that day is like the story or the emotion I want to tell about." Painting a familiar subject allows her to focus more on how the painting is done, rather than what it is about which "gives me a chance to explore all of those emotions and storytelling techniques."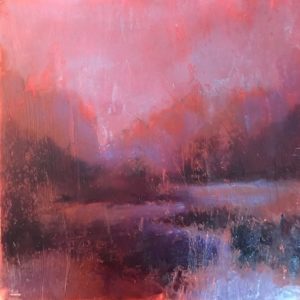 The project, which Marz has titled "The Marsh Before the Forest," is a gradual process. She does not work on it constantly, but instead spends some time working on commissions and other projects, as well as some non-painting related work. "This is not my day job. Yet," she says. But the most important thing is that she can do what she loves. When she started painting again, she says, "it felt like home."
Marz displays and sells her art in Gallery Boom, located in downtown Olympia at 520 Adams St. SE. Some of her work can also been seen on her website. To request a commission, visit her website, send her an email or call 360-481-2005. She does not paint pets or people and works best when she has several months to work on a commission.