Looking for an easy day hike in Thurston County the whole family will enjoy? Have you already seen the natural phenomenon in Littlerock known as Mima Mounds? Just beyond Mima Mounds you will find more to explore within the Capitol State Forest where a trail system is operated by the Washington State Department of Natural Resources (DNR) and is open to hikers, cyclists and horses. This multi-use trail system may require sharing, but just about anyone can hike here, including the family dog.
At the upper Mima Falls trailhead, where several trails begin, visitors will find ample parking, enough room for horse trailers to turn around, a pump for watering horses and restrooms. There are also campgrounds within the forest and one designated as an equine trail. A Discover Pass is required to park in both the lower and upper parking lots; however, there is room to park on the road outside of the lots if you do not have a pass.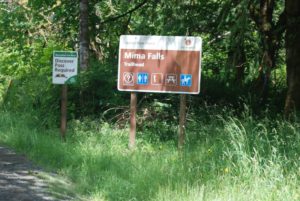 Because old logging roads cross the trail system, and some of the signage is confusing, stop first at the lower trailhead parking lot and check out the information board which provides detailed information about this trail system. You can also find information on the DNR website. Some of the website information may be inaccurate or need to be updated, so watch for laminated signs along the trail for correct directions.
The trails in this system are slightly wider than most hiking trails, making it easy for hikers to sidestep debris left by horses and to make room for bikers and horses. In the rainy season the trails can be muddy but are dusty in the dry season. In early summer visitors will enjoy the bloom of wildflowers such as Foxglove, and birdlife is abundant in all seasons. Deer also make their home in Capitol State Forest and sometimes emerge near the trails. Do not be discouraged by the sound of gunshots you will hear through some of your visit. These trails are near the Evergreen Sportsmen's Club, but after a mile or so the sounds of nature take over and other noises fade.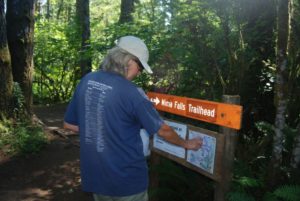 Avid hiker, Donna Wardine, is always looking for new trails to conquer close to home. She recently hiked the Mima Falls Trail and shares her experience. "This trail is pleasant and easy to hike," says Donna, adding that it is not as exciting as many she has been on, but for families and people who need a gentle hike, this one is perfect.
"Where things get a bit tricky," explains Donna, "is where the trail ends at Mima Falls. You have to scramble down a steep hill to the creek bed, then up a rock wall to reach the top of the falls. In summer, they aren't flowing much, but the stream at the top makes a pleasant gurgling sound. It's peaceful." She also mentions a sign posted at the falls, telling visitors not to venture beyond the falls if they are unfamiliar with Capitol State Forest trails. "It reads, 'Turn around here,'" says Donna, warning that those without experience or a map may get lost in Capitol State Forest's nearly 92,000 acres. Overall, she says that she gives this trail an eight for accessibility and a four for adventure and scenery.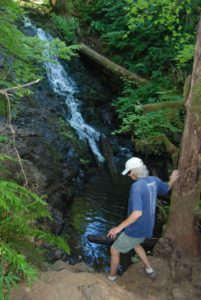 To reach the Mima Falls Trailhead, take I-5 South to Exit 95, the Littlerock/Maytown exit. Continue Maytown Road through Littlerock, which turns into 128th street, for 3.7 miles. At the t-intersection take a left onto Mima Road for 1.3 miles to Bordeaux Road. Take a right and at 0.7 miles, turn right onto Marksman Road for .9 miles. Mima Falls Trailhead can be accessed by turning to the left to the lower lot where the information board is located, or by going a slight right and driving uphill to the upper parking lot where restrooms are located. At the upper trailhead take a left from the restrooms onto the trail. There is signage where the trails split. For Mima Falls take the Mima Falls East trail, which will later turn into the Mima Falls West trail. At this split be sure to look for the laminated sign indicating the direction to the falls. Total hiking time varies according to which trail you choose, but Donna says the Mima Falls trail takes about 1.5 hours each way, depending on your hiking speed.