Fun, form, function and fit. Those are the guidelines that help Dana and Lillian Scott decide what clothes to sell in their boutique, Lily's What to Where, located in downtown Olympia on 4th Avenue between Columbia and Water Streets. The mother-daughter team has been carefully curating their inventory since the boutique first opened in 2008, and they have helped their shop earn a reputation both for its eclectic style and its thoughtful customer service.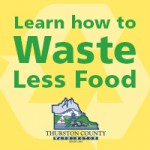 Originally from Texas, where Dana owned a similar boutique, they moved to Olympia when Lillian attended The Evergreen State College. "Like a lot of downtown business owners, I graduated from Evergreen and never left," she says. They opened Lily's What to Where because they "wanted to participate in the downtown community and wanted something that we could do together that we were both passionate about."
That something was clothing.
"For a little boutique, we've got a wide range of items," says Lillian. In part, this is because Lillian and Dana are both buyers for the store, and though they share some artistic interests, they each bring an individual, stylistic flair to the shop. According to Dana, they "specialize in all ages and all sizes of women," and they try to have "a little bit of something for everybody, including price ranges as well."
Their collection contains a mixture of truly contemporary styles and pieces inspired by the classic styles of previous eras of fashion, especially from the 1920s – 1950s. According to Lillian "there's a difference between style and fashion. Style is something that doesn't go in and out; fashion is more trendy." Although the clothes they sell are inspired by earlier eras, the items they sell are all new. This allows them to stock a wide range of sizes and make the styles more accessible to everyone.
"We also carry a lot of natural fibers, sustainable fibers [and] fair-trade certified," says Lillian. Additionally, both she and Dana emphasize that, at any given time, at least half their inventory is made in the United States. For them, it is important that everything they sell be of high quality, comfortable and functional. "You can love a dress that rots in the back of your closet, but if you don't wear it because it's itchy, you can love it all you want but it's never going to work," says Lillian. That is why, when buying for their store, they follow the principle that says, "If it doesn't feel good on, we don't buy it."
For Lillian, feeling good is not just about comfort, but also confidence. Part of this confidence comes from finding the right style and fit. Lillian and Dana want their customers to find "clothes that make you confident," which is why they work with their customers as style consultants. "I think women's bodies are a work of art and dressing them is also an art form," says Lillian. It is this kind of dedication to customers that has earned the store a reputation for customer service. "They come in for the clothes and come back because we offer really good customer service," she says.
However, the inventory is certainly a draw on its own. Lillian and Dana choose pieces that are unique and interesting. "You're not going to run into anybody in your outfit," says Lillian. Many of their pieces are intended to be conversation starters, as well, which is partly where the name of the store – What to Where – came from. They want people to ask "what is that and where did you find it?"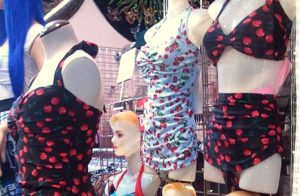 Some of their most unique pieces are their hats, which are immediately noticeable upon stepping into the store, as they are positioned in the space above the clothing racks. The collection contains everything from simple sun hats to classic pillbox hats to decadent fascinators. According to Lillian, "the hats actually started because our space is so tall. You can only really put clothes within reach. Then we noticed there was a real niche market for hats." Plus, she says, "that's a little bit of our Southern flair." They now have customers who drive from Seattle and Portland just for their hat selection.
The dedication of their customers is a reflection of the passion and care that Lillian and Dana put into Lily's What to Where. For them, this store is more than just a business. It is a family endeavor, an artistic outlet and a connection to their community.
Lily's What to Where
202 4th Ave West, Olympia
360-943-7004
Monday thru Saturday: 10:00 a.m. – 6:00 p.m.
Sunday: Noon – 5:00 p.m.