Every Thursday evening in June, the track at Saint Martin's University will be buzzing with families enjoying the weather and discovering the wide variety of fun the sport of track and field has to offer.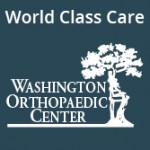 Hosted by the local Barron Park Striders Track and Field Club, these weekly "All-Comers Meets" are open to all ages and skills levels. The atmosphere is inclusive and welcoming. Drew Stevick, head coach of the Barron Park Striders, says the emphasis is on trying new things, improving skills, and simply enjoying quality time together as a family. Most of the athletes seem more concerned with beating their personal records than with beating out competitors.
The first meet, held on June 1, presented a remarkable scene. At one end of the field, a group of toddlers ran the 50-meter dash, cajoled and encouraged by their parents along the way. Some scrunched their faces in determination. Others giggled as they bounded along. A few proceeded more cautiously, still covering their ears after being spooked by the starting gun. They recovered their courage a few meters in, and all finished successfully to enthusiastic cheers from spectators.
In the middle of the field, older kids hurled the javelin under the guidance of Cassidy Stevick, who coaches at both Saint Martin's and Olympia High School. Others worked on their high jumps under the direction of Coach Drew.
Meanwhile, at the far end of the field, a lean white-haired man in his 70s practiced the pole vault (yes, the pole vault) along with a handful of high school athletes. Dan Cole is just one of a number of local athletes aged 50 and over who compete nationally in the Masters Division and also participate in the All-Comers Meets. Coach Stevick estimates that about 20 athletes in the 18-to-50 age range also came to the meet. When they say the meets are for all ages, they truly mean all ages.
It's a rare sporting event that can bring the whole family together to practice and compete alongside each other. The beauty of track and field is how easy it is to participate – all it takes is a basic ability to run, jump, or throw. With such a wide range of events to choose from, there is an activity to fit just about anyone's strengths and abilities. A fun option for families wanting to compete together as a team are the relay races, which are not separated by age or gender.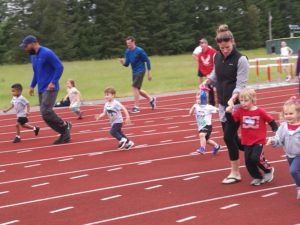 This year, the All-Comers Meets have moved from Tumwater to Saint Martin's University in Lacey. Organizers were concerned the venue change might lower attendance, but the June 1 meet was one of the largest yet, with close to 200 participants. Just under half of those are members of the Barron Park Striders, with the rest coming from across Thurston County and beyond. Groups of athletes come from as far away as Adna, Shelton, and even coastal Hoquiam. The meets have never been heavily publicized, so the continued growth comes mainly through word of mouth.
Some of the best promoters are the kids themselves. Twelve-year-old Olivia Kee of Tumwater has been with the Barron Park Striders for a couple of years now, specializing in javelin and hurdles. Olivia says the All-Comers Meets help her expand her horizons. "It's fun to learn new things. I've been running since I was a little kid, so that part is easy, but the field events give me the chance to practice something new. I did my first high jump tonight!"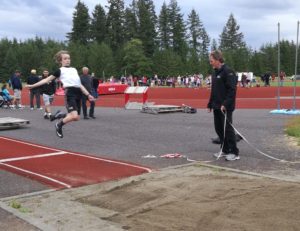 Cooper Campbell, 11, of Olympia is in his second year with Barron Park Striders. Cooper excelled in the high jump in his first season, topping out at over four feet. He is excited to (literally) keep raising the bar this season. Asked whether he would recommend the All-Comers Meets to friends, he replied with an emphatic "definitely."
Jennifer Penrose of Olympia says her family has been involved with the Barron Park Striders since her oldest child, now 11, was four years old. "Basically, as soon as he could walk, he could run, so I had to figure out something to get him involved in, and he loves the Barron Park Striders. When practice was over he would ask, 'Why are we stopping?' He just wanted to keep running and running." These days, all three of her sons participate: Alan, Andrew, and Alex, ages 11, 8, and 6, respectively. "The coaches are just so encouraging and supportive," says Jennifer. "At the event stations, they don't just tell you your time or distance – they actually coach and offer suggestions. It's a no-pressure situation. It's just about you and the clock, you and your form, not about intense competition."
The quality of the coaching staff is indeed one of the Barron Park Striders' greatest assets, and this carries over to the All-Comers Meets. The Stevick family is legendary in the Olympia track and field community, with multiple family members having competed and excelled at the national level. Drew Stevick, son Jesse Stevick, and daughter Cassidy Stevick all coach track and field at Olympia High School along with Barron Park coaches Scott Copeland and Sara Klein. They all help with the All-Comers Meets, as do members of a local track and field club called the Die Hards, who help officiate the throwing events. With the new meet venue, athletes may benefit from the expertise of some of Saint Martin's coaching staff as well. "We get a lot of help from a lot of people," says Stevick. "It's just a really great track and field community."
The 2017 season is the 30th season for the Barron Park Striders. Where does Stevick find the energy and motivation to sustain the club year after year? "It's sort a gift from the Lord," he says. "I really love the sport, so it's fun to share it. And the thought of bringing families together in any way is high on my priority list."
If you would like to check out an All-Comers Meet for yourself, here are some details to help you find your way around:
Meets are at Saint Martin's every Thursday in June, starting at 6:00 p.m. (End time varies based on which events you do, but most finish by around 8:00 p.m.)
The Saint Martin's track is accessed from Pacific Avenue. Parking is free.
Check in at the registration table upon arrival. Registration is $5 for one athlete or $10 for the entire family. Entrance is free for family and friends who are just there to watch and cheer.
Each athlete may compete in up to four events. The meet offers 12 running events and nine field events to choose from.
Most field events run on an open schedule, but races require runners to gather near the starting line at a specific time. Participants receive a meet schedule at check-in, and races are also announced over the loudspeaker so runners know to line up.
All events are officially timed and measured by U.S. Track and Field standards.
More information on the Barron Park Striders can be found on their website.