When professional arborist Tom Otto and Sean Sears rescued their first cat in 2009, they had no idea that high demand would lead them to forming a non-profit organization, Canopy Cat Rescue. However, after rescuing nearly 2,000 cats over the last eight years, it became apparent that this was more than just a once-in-a-while job for them.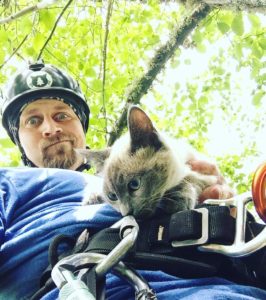 "When we first got started, we decided we weren't going to do this for money. We knew that from the beginning," Tom says. They told people they could give them donations if they wished, hoping for at least gas money. Sometimes people paid them with non-cash gifts as well.
At that time, they thought they would just be getting a cat every now and then – not several a day. In fact, the day I interviewed Tom he had four rescues just for that day and Sean also had a few rescues. And Tom says the number is increasing as people learn about them.
Over the years, they have seem some pretty incredible things – for example cats that have been stuck in trees for weeks and are still alive. The longest they know of was 16 days.
Every once in a while, Canopy Cat Rescue gets calls from people who have cats stuck in places other than trees, including roofs, storm drains and even HVAC systems. Tom says that while he wishes he could save every kitty, these are rescues that need to be done by people with more experience than he has, especially when it comes to something like an HVAC system. As for rooftop saves? Believe it or not, roofs freak him out. "I don't like climbing on roofs," Tom admits. "I'll go 200 feet up in a tree and not think twice about it, but I feel exposed on roofs and they are scary for me." But this hasn't stopped Tom from rescuing the occasional roofed cat, including one that had been missing for over a month.
Becoming a Non-Profit Organization
After years of running as a volunteer, give-if-you-wish type of organization, Canopy Cat Rescue became a 501(c)(3) non-profit organization at the end of 2016.
"It just seemed like the right thing to do given our mission," Tom says. "We thought this might open up some opportunities for grants and other things that could help us further our mission."
Becoming a non-profit is not a quick and easy task. It takes many hours and the help of knowledgeable people, including a CPA well-versed in nonprofits. Lucky for Tom and Sean, a cat they saved happened to be owned by such a person who was more than happy to return the favor they did for her.
"A couple years ago Sean rescued this cat and just started talking to the owner, like we usually do," Tom explains. "It turned out that she worked for an accounting firm that specializes in setting up non-profits. She offered to help us set up ours for free." While they still had to pay the set-up and processing fees, she saved them a lot of money on the preparation side.
Now that they are a non-profit, the team at Canopy Cat Rescue has been working on learning what they can do to raise money and what the best plan is for them moving forward. "We are still learning about all of this, but we do know that people won't just send us money, we have to ask for it," Tom says. "But we aren't sure what that is going to look like quite yet."
Katie Otto, Tom's sister, is also an owner of Canopy Cat Rescue and is a CPA, so she is big asset when it comes to figuring out the best path for the new nonprofit. In the past, they created a calendar of pictures from rescues, but they just broke even with the sales. Tom says they are thinking of doing another calendar, but in such a way as to actually make some money for the nonprofit. They are also brainstorming ideas for fundraisers in the new future and exploring grant opportunities. Currently, they do have hoodies for purchase on the Cat Canopy Rescue website.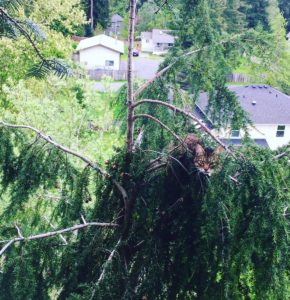 The monies they raise will be used to further their mission: "To rescue any cat stuck in any tree regardless of their families financial situation because all cats deserve to be reunited with their loved ones."
Part of that mission includes much-needed growth. They get more calls than they can handle currently, from all over Western Washington. Tom has a full-time job so he is doing this after work and on his days off. He is hoping that future funding will allow him to devote more time to Canopy Cat Rescue, turning it into his full-time career so they can answer more rescue calls. Tom explains, "Like today, I am off work now and I have a Bonney Lake, Lacey, Bremerton and Yelm call. I won't be able to get to them all. And then it becomes a tough decision to prioritize these. If I wasn't working full-time, I could have done all of these rescues today. We are limited in the number of rescues we can do."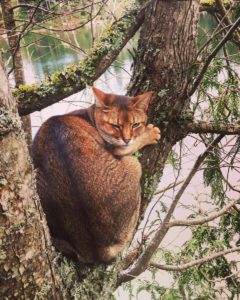 Other future plans including being able to train new volunteers to help rescue cats as well as non-rescuing volunteers who will help with fundraising.
In addition to rescue, Tom and Sean educate owners on the importance of microchipping – often the only way lost kitties they rescue find their way home – neutering and ways to help prevent cats from getting re-treed. They do rescue repeat offenders and try to cut down on the chances of that happening through owner education.
For more information visit Canopy Cat Rescue's website or call 877-7221-MEOW. To see videos and pictures of their rescues, follow Canopy Cat Rescue on Facebook.
Tom Otto and Sean Sears participate in an interview on Thurston Community Media's Mission Non-Profit series with host Andrea Capere. TC Media takes you behind the scenes with Canopy Cat Rescue in the following videos.