It's the time of day eagerly dreamt about. Excitement and anticipation can encompass an entire room and a single glance can be a mutual agreement to embark on the tasty ritual of Happy Hour. Happy Hour's around town are many, but those with dedication can try, and find, the best of the best. For those aiming to find the best bites at the right price, curating a list of top picks, it's time to add a new venue to your list.
The daily Happy Hour from at The Governor's Cellar, from 3:00 p.m. to 6:00 p.m. daily, is not only convenient, located in downtown Olympia, but maintains fair prices with a variety of cuisine and drink specials to choose from. Executive chef, Lanette Miles and sous chef Jordan Kettel wanted to "entice people with a designated Happy Hour Menu," that will leave guests with curious appetites for dinner.
The signature American cuisine of The Governor's Cellar can be both innovative and comfortably predictable, however Miles and Kettel have transformed favorited comfort foods with their own flair and personality. They have taken the best of both worlds with specialty interpretations of the classics such as Coca-Cola chicken wings and spicy buffalo waffle fries tossed in Fireball infused hot sauce. These offerings give good reason to not underestimate the flavors coming out of their kitchen. The passion for sharing good food and the drive for presenting items off the beaten path is genuine. Most everything is made from scratch while using simple, fresh ingredients sourced locally when available.
Choose something light, like the poke wonton cup featuring Ahi tuna, chili, sesame and ginger. If you are looking for something bit more hearty try the green chili mac & cheese served with pulled pork or the classic happy hour choice – loaded potato skins. And, the happy hour pricing will make your wallet just as happy as your palate.
Like the food, Miles and her staff have taken care to stock the bar with local favorites and seasonally rotating specials. The beer has been sourced locally, supporting breweries such as Fish Tale, Hoh River and Three Magnets. The rest of the bar is also thoughtful and supports the community's wants and needs, with Washington wines and Four Roses Bourbon as the well whiskey.
Cocktails reflect the season and include specialties such as the Strawberry Smash – a mixture of strawberries, lime, gin and soda. Or, celebrate the closing of a deal with The CEO featuring vodka, grapefruit, basil and soda. Looking for a classic? The Governor classic is your drink – old fashioned whiskey, sugar cube, orange twist, rye and orange bitters. A couple might opt for one Governor Classic and one Governor's Wife, a tempting concoction including elderflower, champagne and raspberry.
The Governor's Cellar has a lively feel to it, with large windows that overlook Sylvester Park and craftsman barstools and tables made from wine barrels. The Cellar may be an upscale eatery but the service is as friendly and comforting as you'd expect from your neighborhood pub. Miles and Kettel enjoy coming out from behind the kitchen doors from time to time to greet and thank guests and regulars. While you may see someone in black tie, having a drink before a gala event, it's just as likely to see someone in their riding gear, just finished with a pedal through town. The Governor's Cellar doesn't discriminate, wanting simply to offer their passion for food to the community.
"We want to be able to share our food with people," Kettel says. The love for their craft is uncomplicated and chefs Miles and Kettel enjoy providing people with the best service as well as quality food. Using local produce and suppliers has also made a personal connection for the Chefs in Thurston county, so that "people have the best experience all around."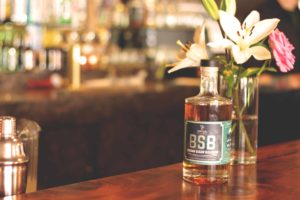 Stop by The Governor's Cellar for Happy Hour from 3:00 p.m. – 6:00 p.m., 7 days a week. Whether you are on your way home from work or are grabbing a drink and bite before going out to a show. The environment is friendly, the food reflects the quality and innovation of the chefs and our region, and the drinks are served cold and with a smile.
The Governor's Cellar
621 Capitol Way S. Olympia
360-951-1300
Sponsored