Paul Harvey once said that "Golf is a game where you yell 'fore,' shoot six, and write down five." Whatever your style or ability, intrepid Washingtonians brave the elements year round on their quest to conquer bogey, birdie and bunker.
It's reported that more than 25 million Americans put club to tee in 2016 alone. With these numbers, it's no surprise golf tournaments make some of the best charity events. A spectacular turn on the links that raises money for regional causes is truly win/win for everyone.
On Monday, June 5, Little Creek Casino Resorts' Salish Cliffs Golf Club opens their championship course to benefit the Squaxin Island Museum Library and Research Center (MLRC). This sixteenth annual event serves to benefit MLRC programs and classes in and around tribal communities.
Salish Cliffs is the world's first salmon safe certified course and one of GolfWeek Magazine's Best Resort Courses in 2016. Participating golfers receive a day of fun including 18 holes of golf, GPS-enabled cart, gifts valued at more than $300 and a catered awards meal with two drink vouchers.
Four-player teams will compete in scramble format where the team with the lowest score will get to hoist the Championship Belt.  Players will also have the opportunity to win a variety of other prizes during skill contests like closest to the hole, long drive and even a Hole-in-One contest for a vehicle.
The entry deadline for this annual event is Friday, May 26, and costs $1,200 per team. On the day of the event, registration begins at 8:00 a.m. with a 10:00 a.m. shotgun start. The included banquet and awards take place at 3:30 p.m. to round out a great day on the course all for a good cause.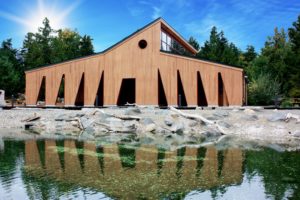 Whatever their final pace or par, players can take heart knowing their day's outing benefits generations of Squaxin Island history and culture. The MLRC showcases the heart of the tribal community's history and heritage.
The museum describes itself: "The strong connection between the seven inlets of South Puget Sound and the Squaxin Island Tribe—People of the Water—is the core theme that is presented in all exhibits and galleries. Key topics, such as our prehistoric and present day aquatics-centered lifestyles, timber/wild game harvest and management techniques, oral history and legends, the Treaty of Medicine Creek, religious practices and arts, all highlight this link with nature and the inland sea."
Outside of education, the MLRC also facilitates native language classes, community gatherings and job training for tribal members. It truly is the heart of the community and people from around the region rally together each year to support this local treasure.
Register for the Tournament and see a list of fellow players online. Once enrolled, you'll be able to track scores and pictures from the event as they're posted. Golfers will also be able to keep track of where they stand on the leader board with the addition of live scoring through the golf cart's on board GPS screen.
Know that the Salish Cliffs dress code requires collared shirts with no denim or athletic wear allowed. No outside food, beverages or coolers will be permitted either, but the on-site full-service restaurant and award winning golf shop can meet any need pre- or post-game.
Salish Cliffs is located at 91 West State Route 108 in Shelton and additional tee times can be reserved online or by calling 360-462-3673. Overdo it on the links? You can book relaxation treatments at the adjacent Seven Inlets Spa online as well.
It's been joked that golf "is a good walk spoiled…" But, when it's time spent outdoors with friends to benefit a regional historical and cultural treasure, well,  that makes for a hole-in-one.
Sponsored