The Pacific Northwest is full of natural beauty, yet another reason we all love calling the area home. Around every corner, along each river and creek and at the top of summits standing tall above the Puget Sound, we find ourselves blessed with almost too many options for exploration. As a community that loves the great outdoors, we find ourselves searching for new places to take our families to connect with wilderness of every kind. While we literally have thousands of miles of trails to choose from, the seven hikes and adventures listed here are a short drive from Olympia and are some of the most iconic, wild and beautiful trails in the state.

Olympia resident, Mathias Eichler, author of the book, Basecamp Olympia, which highlights the best family hikes around the region, has been hiking with his family around Olympia and the Pacific Northwest for the better part of a decade. His kids have found joy in nature, craving time with their mom and dad and longing for the return of the summer hiking season.
"I hike with my family to experience profound quality time with my children," Mathias explains. "Away from homework and screens, we chat, share, connect and experience the outdoors together. We love the preparation and build up, the adventure and the stories, as well as looking at our pictures when we get back."
Mathias is not alone in sharing his love of the outdoors with his family. Our city, county, state and national parks are seeing an influx of visitors, both young and old, hoping to find an enjoyable day in the wilds of the Evergreen State. While some find picnic spots or someplace to sit back and relax, many families are discovering the joys and benefits of hiking the trails.
"My kids love getting encouragement from fellow hikers on the trail. The experience in nature surrounded by wildlife makes them stronger; their eyes are open, their hearts full," beamed Mathias as he discussed hiking with his family. "I hope their experiences in the outdoors will make them strong and confident, leaving them with an intense search for beauty and a desire to live their own lives, according to their hearts."
Priest Point Park
Just northwest of downtown Olympia, Priest Point Park is more than just a beach and picnic area. Offering miles of trails in forests, along the shoreline and on the bluffs, this City of Olympia park is a perfect afternoon destination. The views of the Olympic mountains, the beauty of Budd Bay on the Puget Sound and thousands of ferns will provide families of all ages with a memorable day at Priest Point.
Staircase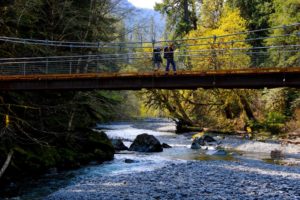 Maybe one of the most underrated areas of Olympic National Park, the Staircase region is just 90 minutes from downtown Olympia. Offering trails for all abilities of hikers, including the stunning Staircase Loop Trail, this is a wild and wonderful destination that will immediately become a favorite. Families with older kids can hike the mountains or discover the beauty of high alpine lakes during overnight backpacking trips.
Rampart Ridge
Located in Mount Rainier National Park's Longmire region, a scenic two-hour drive from Olympia, Rampart Ridge is a perfect introduction hike to the beauty of the state's most famous mountain. The loop trail, which is just 4.5 miles in length, provides amazing views of the mountain, as well as a chance to walk in pristine wilderness forests. While steep, gaining 1,300 feet in elevation, the trail is accessible for most kids who are used to being outdoors.
Nisqually National Wildlife Refuge
A short drive north from Olympia will get your family to the Nisqually National Wildlife Refuge along the Puget Sound and Nisqually River. Here, under the shadows of Mount Rainier and the Olympic Mountains, bald eagles, blue herons, great horned owls and numerous other species of birds can be found along the miles of paths through the forest and along elevated boardwalks. Nisqually is a year-round destination that keeps rewarding you with wildlife experiences and gorgeous views. Walk the boardwalk during high tide for an amazing adventure, as seals occasionally swim under the walkway and eagles swoop overhead.
Five Mile at Point Defiance
Forty minutes north of Olympia in Tacoma, the trails around Point Defiance, known as Five Mile, are some of the most fun hikes you will find in such a large city. With beaches to explore, forests to wander and breathtaking views from bluffs seemingly around every corner, you will wonder why you have not hiked here before. Perfect for families of all ages, an entire maze of well-marked trails awaits you. The trails lead to some breathtaking gardens with wildflowers, huge trees and scenic overlooks of the Olympic Mountains, with possible whale sightings in the Puget Sound below.
Lena Lake
Also 90 minutes from Olympia, the Lena Lake Trail is an Olympic National Forest classic, taking you from the Hamma Hamma River to the breathtaking shores of Lena Lake. While it may be difficult for younger children, this trail sees kids of all ages during the summer months despite its length of nearly seven miles round trip. While gaining 1,300 feet of elevation, you will be rewarded with views of pristine forests, gorgeous wooden bridges, giant mossy boulders and the shimmering lake.
Mima Mounds
Less than a half hour south of Olympia, the mysterious and serene Mima Mounds Trail is a great walk for those with little ones, or those looking for something easy to do close to home. With just under three miles of trails through gently rolling prairie lands, the trails at Mima Mounds are a geological wonderland. In the spring, the mounds erupt in wildflowers, butterflies and other small creatures. If you want to extend your outing, head north along Delphi Road and stop off at McLane Creek for even more of Thurston County's unique natural beauty.
Thrifty Thurston highlights inexpensive family fun in Thurston County. The weekly series focuses on family-friendly activities throughout our community. If you have a suggestion for a post, send us a note at submit@thurstontalk.com. For more events and to learn what's happening in Olympia, Lacey, Tumwater and the surrounding area, visit our complete event calendar.