Every day we walk by people on the street, in the grocery store and everywhere else we might go, but all too often we do not actually "see" them. This can especially be true if they are in a different age group. I remember as a high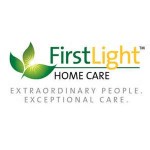 schooler not associating with many senior citizens unless they were relatives and even then, did not really feel a connection. They did not have anything in common with me, could not possibly understand what I was going through, and certainly would not be any fun. However, I eventually discovered I could not have been more wrong.
Linda Terry has made it her life's mission to change the perception that young people and elders often have of each other. "For a couple years I wondered what would happen if I got a group of elders and a group of teens together," she tells me as we sit down in her office overlooking Puget Sound. For this very reason, she founded the non-profit organization STEP, the Sharing Teens and Elders Project, and it just continues to grow.
Because getting older is something we will all experience, Linda says it is important to "change the social norm on aging," starting with the youth of today. STEP aims to break down these barriers and encourage wisdom to be shared and passed down, so once a month Linda takes her group of high schoolers into a room full of senior citizens.
She says originally they would play brain games, but that quickly evolved into real conversations with each other. With about sixty people participating, some are fresh new faces while others have become like old friends. "I thought I would have trouble getting teens involved, but now I actually have more teens than elders. Because word on the street is, it's a lot of fun. Some of the elders will say, 'This is the highlight of my month; I never miss this,'" Linda explains with a smile.
From the moment the teens walk through the door, spirits and energy seem to rise, according to Linda, and it does not take long for the sharing to begin. Jack Sodeberg is an elder with the program and he says people would be surprised to see just how well they get along with each other. "They aren't all that different from us. Our hopes, desires and philosophies are very similar. They have different tools to deal with them like iPads while we didn't even have a TV until I was out of high school," he shares. Jack adds that he generally is interested in what the teens have to say and enjoys passing along his own knowledge to them.
A few things are off limits, like religion and politics, but Linda says there is still plenty to talk about. Topics range from the way clothing style has changed to the slang of today versus yesterday. Often, participants simply share personal stories. One thing that is required is some form of human touch between the teens and elders, however they are comfortable. This came about after Linda's own experience when she hugged one of her participants, and the woman did not want to let go. "She just said, 'Oh that feels so good. Nobody has touched me in two years.' So I started interviewing my elders about how they never get touched," Linda elaborated. It can be a handshake, a pat on the shoulder, or for others, a giant bear hug. Whatever it may be, it makes a difference.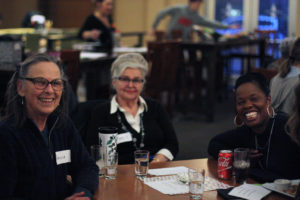 At the end of each STEP meeting, everyone writes a reflection of their time together. Interestingly, they all seem to say the same thing: they leave with more energy and a different perception than when they came in. Teens and elders often say it is a life-changing experience. "They often comment, 'Wow, we are still so much the same even though there's 70 years difference,'" Linda shares.
STEP participant Pat Hunter says it is a great way for her to interact and communicate with the younger generation, something she does not get to do much. "As we become seniors, our exposure to teens is very limited," Pat explains, and she is surprised they keep coming back to listen to her talk. "When your grandkids get too busy to spend time with you, this program is available. You can become friends with teens and interface with them in their world, and they in yours. It is fun, informative and connects you to another dynamic of life. I love the kids, the program and Linda Terry, our fearless founder and leader."
With such a great response to STEP, Linda recently had a new vision, and STEP TWO (The Women Only) was born. Linda says the friendships she has formed with the older women have been a positive influence on her own life and she wanted to share it with her friends.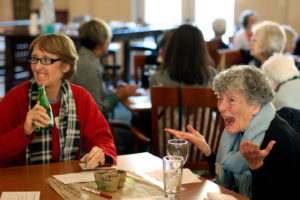 For the past year, every Sunday, women ages 30 to 95 come together for a local Happy Hour. They discuss a wide variety of topics relating to women and Linda says it has become a safe zone where they can feel free to speak up and not be judged.
The goal of STEP TWO is the same original philosophy of STEP: to see the person on the inside instead of only outer appearances or the number of candles on a birthday cake. As "Aging is one thing we all have in common," Linda explains. "What we do to change the lives of seniors now is really for ourselves. I don't want to be invisible when I'm old." Society often forgets about people as they get older and their voices are not heard. Her STEP programs aim to change that.
STEP meets monthly at Providence St. Francis House and the Olympia Senior Center. For more information visit Senior Services of South Sound online, who recently adopted the program. To find out about STEP TWO, e-mail Linda Terry or call 360-586-6181, ext.110.