Walking into Olympia Community School (OCS), a scene of students preparing to play outside greets me. Little arms are thrust into coat sleeves and chatter rises in excitement. Among those voices, I hear a conversation about hair dye.
Fifth-grader Helen Caddy is giving parent Janice Rosen tips on creating a great color line at home— "use a headband," she urges. Apparently, it works, her bangs are bright purple and on point.
Once the kids, who are all participating in the aftercare program, are ushered out to play, Janice turns her attention to me. We begin our tour of OCS, Thurston County's oldest independent school, operating as a non-profit since 1973.
Janice works as the enrollment coordinator for OCS and volunteers as a parent educator in addition to her "day job" as a nursing assistant. Her son, Sam, is a second-grader at OCS and has been attending since kindergarten.
"The thing that sold me about this whole school was not just the idea that they could personalize the education, but that it's so engaging and fun," shares Janice.
What does it mean to personalize education? And what makes it so engaging and fun?
For starters, it means capping class sizes at 14. Currently, OCS's entire student body, kindergarten through fifth grade, consists of 32 students. The classrooms are intimate and cozy and each grade group has its own library.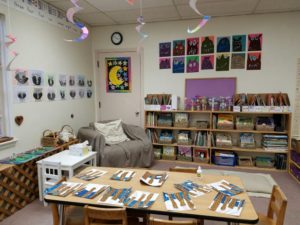 "The beauty of our teachers is they are skilled to teach to the classroom and to the individual child," says Janice. "They are able to pick and choose from different methods of teaching that addresses each individual."
OCS also practices emergent, thematic teaching – a type of curriculum often used in Montessori and other private schools—which engages and empowers students by giving them a say in what they will learn, choosing content topics that are relevant to them, while incorporating broader, state-recognized curriculum standards and goals. According to Wikipedia, "Thematic learning takes place when different disciplines are all centered towards one definite concept."
OCS's theme last year was "Earth Heroes."  
"The curriculum covered everything, starting with themselves – how to be a hero to yourself and take care of your body," explains Janice. "So [we studied] anatomy and nutrition, they dissected an eye, all kinds of kinesiology. Then, they learned how to be a hero to the community. They took the nutrition skills and turned them into cooking skills and prepared food for homeless shelters and went to the food bank and packed weekend food bags for needy children. Next, they learned about heroes in the world around them, such as historical heroes and even animals as heroes. The curriculum continued to integrate and branch out."
At the beginning of the year, each student writes down what they want to learn about—like mice, or rocks, explains Janice. The teachers then plan the theme using each idea, truly personalizing the curriculum and allowing the students to learn things they are enthusiastic about and interested in.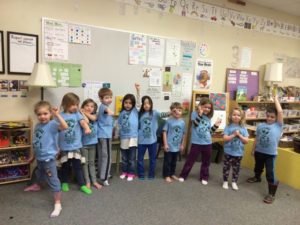 At OCS, students learning from one another is also valued. The upper and lower grades have class time interaction as well as lunch, and recess together. They share circle time and community meetings. They participate in yoga and study Spanish together and have reading buddies. The students conduct learning workshops for their cohorts. The modeled behavior, patience practiced and conflict resolution that stem from these daily interactions are important life skills and esteem-boosters that translate well into the adult world.
Take new student Helen, for example. She came as a mid-year transfer last year when her parents saw her interest in her current school wane and "her light go out."
Since her transfer, Helen has thrived and regularly finds herself in leadership roles, says Janice, even acting as a school representative when parents or other adults visit the school, answering questions or showing them around.
"I like being a student at OCS because it's a smaller school, so it's not overwhelming," shares Helen. "You can really connect more with the people around you. I love how we do so much stuff as a community and together. With my other school, I thought that things were very stereotypical, like boys playing sports, girls doing dancing. And I thought that their teaching style was a little less hands-on and harder to follow. I felt that we didn't do enough field trips and going out. I'm glad that we found this place (OCS) if only for a little bit of time."
Being a parent-run school means that parents are required to spend 65 hours per year, or 6.5 hours per month in a variety of tasks that make OCS a unique experience for the students and to attend monthly parent meetings. For some families, it works well for a parent to take on a more established role in the school, such as Janice's position of enrollment coordinator, which can result in a substantial tuition reduction.
The school has three full-time teachers and brings in work-study students from The Evergreen State College to assist with teaching and other duties.
Visit OCS and learn more about the staff, school and programs at one of their upcoming open house events. The next opportunity is on Wednesday, February 8 from 6:00 to 8:00 p.m. Attendees are encouraged to register at enrollment@olyedu.org.  Private tours are also available by appointment. For questions or to book a tour, email Janice at enrollment@olyedu.org or call 360-866-8047.
Olympia Community School is centrally located at 114 20th Ave SE, Olympia, WA 98501
Sponsored