There's no doubt that Olympia High School senior Noah Firth has an abundance of school spirit. During his four years of high school, he's attended every home football game, rain or shine, win or lose. But you won't find Firth in the student section. Unlike most high school sports fans, he's with a special group: the marching band.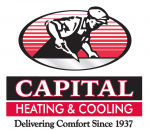 Firth has been a member of the OHS marching band all four years of his high school career. He participated as a trumpet player for two years before being selected as one of three drum majors. For Firth, the best part about being in marching band is the kind and accepting environment. "Everyone is just very supportive and there's a familial attitude," he shared.
Every year, about sixty students choose to be part of the marching band. The commitment involves playing during all home football and basketball games, performing at a few other sporting events, practicing up to four hours a week, and wearing the infamous blue and white uniforms. During his freshman year, Firth decided to join the marching band because his older brother had enjoyed the program and he liked the type of music the band played.
He has continued with marching band not only because of the welcoming atmosphere, but also because of the pride he takes in this outstanding student group. From Firth's perspective, the most rewarding aspect of being drum major is standing in front of the band and getting to hear all the hard work they've put into their music. "Hearing them makes you very proud as the leader of the band," he added.
Firth decided to apply for the role of drum major due to the influence of an upper classman. Skye Scoefield, who graduated from Olympia High School in 2015, was a drum major and an ASB officer, as well as an "upper classman inspiration" for Firth and the main reason he was interested in taking on such an important role. This year, Firth has followed in Scoefield's footsteps in more than one way – Firth is the current ASB treasurer, too.
Some people may wonder why a student bursting with school spirit isn't in the crowd. While Firth does wish he could have experienced a few games from the perspective of the student section, he truly enjoys being a part of the band, knowing how much school pride the group has.
Additionally, his role as drum major has been an exciting and unique opportunity for Firth. "It's an amazing experience being able to lead such a big group of passionate people," he commented when describing life as the OHS drum major. Another job requirement is having a lot of spirit and energy. Whether the team in winning or losing, it's the marching bands job to play on. "You have to balance being extremely spirited and entirely focused the entire time," Firth explained. Watching OHS's marching band, it's clear they know how to handle both of these roles.
When asked why he is so passionate about playing music, Firth had a definitive answer. "I think music is kind of like a common language between everyone and has a foothold in the world that nothing else can really replace." Firth also believes music opportunities in school are beneficial to students. "Music helps people learn the importance of dedication, hard work and persistence through experience," he said. He feels music aids not only with general life lessons, but with other aspects of school, too. Learning an instrument teaches students a new way of learning that can help with other subjects including math or foreign languages.
In addition to his role as drum major, Firth plays the trumpet in the OHS Wind Ensemble and OHS Jazz Band. He's also a skilled pianist and can almost always be found listening to Spotify on his phone. This year, he asked a friend to homecoming by performing a rendition of a popular Kanye West rap song. Clearly, music is an important aspect of Firth's life. And he feels that it can enrich other's lives, as well.
As he finished talking about the importance of music and the marching band program, Firth shared one closing remark. "Music is something that should be a part of everyone's life. It explains human emotions in a way that words and actions cannot."