On Saturday, November 26, the expression "shop small" holds special significance for local store owners. Eateries, theatres, clothes shops, and independent book stores take center stage and remind our community of the vibrant offerings along our downtown streets.
In 2010, American Express started the Small Business Saturday movement to encourage people to purposefully spend their dollars at local merchants, supporting their home-grown economy, making their hometowns a better place. In recent years, support for the movement generated an estimated $14.3 billion dollars nationally at independent businesses on #SmallBizSaturday. It has become an annual tradition held on the Saturday after Thanksgiving. Held between Black Friday and Cyber Monday, Small Business Saturday encourages shoppers to stay local.
For six years, Thurston County residents have flocked to downtown Olympia and supported its sellers on Small Business Saturday. Although most of the large-scale attention is paid to Black Friday and its big box purchasing sprees, the businesses that line our main avenues are small for a reason: the sellers want it that way. The purveyors are committed to their historical location in town, the specialty product they deliver, and the personal attention they provide to their community.
Tattered Treasures, a downtown Olympiastore focused on repurposing furniture and offering antique items for sale, is full of antique furniture, candles, linens, silver and china serving dishes, and French Country items.
"I have a passion for all things French," owner Sandy Libbey says. "I've been here at 113 5th Avenue for three years. My building just celebrated its 100th birthday. I like cottage-style painted furniture. I reupholster all the furniture myself. I paint and distress antiques that need a new life. I put time into furniture."
Sandy doesn't mind the age of her building. Its age is part of its charm. There are leaky pipes and creaky floors, and the building was once a bank with a vault located in the back. The store is her creative outlet.
"If I didn't have the store, my house would be full. I have dogs and boys. It wouldn't be a good combination," she says.
Sandy looks around at the aged and comfortable furniture and pillows that populate all corners of her shop. "It's just old, I like it that way."
The 5th Avenue Sandwich Shop has been at 117 5th Avenue in downtown Olympia for 11 years. The home-style lunch restaurant has evolved into a passion for Hollie Elsey and her mother Bonnie.  The duo have been developing restaurants and coffee shops in Thurston and Lewis counties for decades. Hollie started in the family business at age eight, standing on a milk crate and washing dishes. She is now the manager of and sole pie maker for the restaurant. (Try the pies. Trust me.)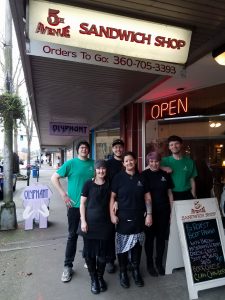 The sandwich shop is located in the old Martin building, which has lived many lives in 100 years. Since 1958, it has hosted a fuel and heating company, a Singer sewing machine business, and, prior to the present eatery, was the Little Richard's Sandwich Shop for 20 years.
"We didn't know when we were setting up this restaurant that it would become a love affair with nostalgic pieces. People ask if it has always been like this," Hollie says pointing to the antique furniture and vintage signs about home cooking, baking, and family.
"Our customers on Small Business Saturday are the same with one exception," Hollie says. "They bring their children with them. Our customers are loyal and it's fun to have all of the kids here."
The mother-daughter team promise consistently good food, satisfying portions, and fair prices at the 5th Avenue Sandwich Shop. Six days a week, the staff turns over 90 tables at a time.
"We're successful because the word of mouth speaks for itself," says Hollie, looking over the frenetic bustle of the small business.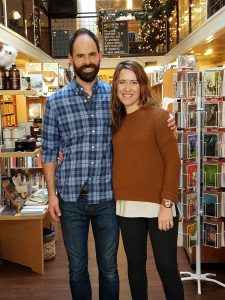 Andrea and Telfer Griffith purchased Browsers Book Shop two years ago. Located at 107 Capitol Way North, the downtown Olympia bookstore has gone through a major renovation. But, Andrea will tell you, that's minor compared to its history.
Browsers Bookshop has been in downtown Olympia for 80 years. In that 80 years, four different women have owned the store in various locations. Its present home was built in 1881. The building was a real estate agency, a sporting goods store complete with heads and pelts, a tavern with dancing girls located on a balcony on the second floor, and then ultimately a book shop from 1979 to the present.
Three massive skylights with original glass grace the ceiling of the book shop. When the Griffiths moved in, one of their first jobs was to clean the glass. It was transformative. The shop became filled with light. The Griffins then focused on making their idea of a book store come true.
"My goals for Browsers are pretty simple, really," Andrea says. "We want to build a community of like-minded readers that think of Browsers as their neighborhood bookstore. We want to make the space beautiful and bookish. We want to create a space that people can meet to talk about books and writing."
"Our customers are people who love books," Andrea says with a smile.
Browsers Book Shop has embraced the love of the old and familiar exemplified by Sandy Libbey's worn and repurposed antiques at Tattered Treasures, and it also represents the welcoming feeling of coming home to the 5th Avenue Sandwich Shop. But a bookstore is a gathering place of locals where big ideas come from small groups, and without Small Business Saturday, we might not know about the riches amongst us.