Phoebe Martinson gets to have her cake and eat it, too.
"I'm doing exactly what I wanted to be doing," she said glowing radiantly. Her vision was to operate her own shop, which happened in December 2012 when Phoebe and Dan Martinson opened Phoebe's Pastry Café. Tucked away in Westhills Business Park (adjacent to the Olympia Auto Mall), the café has limited street visibility and foot traffic. Previous eateries there disappeared with barely a whimper.

On the contrary, Phoebe's Pastry Café thrived. Reports of thoughtfully made sandwiches and soups, creative desserts and genuinely warm service spread by work of mouth. They are the hallmarks customers rely upon. The business has grown to the limits of the kitchen – great news, but there was nowhere to expand. Then, in a series of fortunate events, the Martinsons created a solution. They are joyfully announcing the opening of Phoebe's Pastry Café on Division, a mini-version of the first location. The remodeled house is on one the edge of West Central Park, a pedestrian friendly commerce center.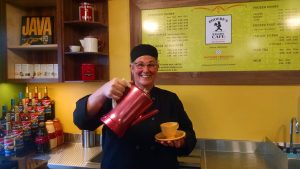 For Phoebe, this is fabulous news, but it gets better. She explains, "The most beautiful thing…" and pauses because she is momentarily overcome with emotion, "is my older son Jacob will be the manager." He's packing up his life in Maui where he's been working for the Ritz Carlton. Jake will be resettling in Olympia, his hometown. Mom has been teasing him about the opportunity to run the new café, and one day Jake pursued the conversation. To his mother's delight he was ready for a change.
The golden colored house on the corner of Fourth and Division is Jake's new digs. It's mindful of the 'first' Phoebe's with walls of Tuscan yellow and local art curated by Dan. The spacious windows provide energetic views onto the intersection of Harrison and Division and far down Black Lake Boulevard. Martinson is keen to be part of "bringing the building back to life." The refurbished wood floors are 88-years-old and now look wonderful. The house had been worked on over the past year and a half. Another bakery had planned to use the space, but the deal fell through. Martinson said, "It was meant to be."
Phoebe's Pastry Café on Division will be preparing all the savory food such as soups, sandwiches and quiches for both locations. The original space will make the sweets, desserts and special orders. The new location's food will be grab and go, though there will be tables outside as weather permits.
Phoebe's Pastry Café on Division has the food you already know and like from their original location, but there're many exciting menu plans unfolding. You'll be able to order a scoop of ice cream. Look for new ice cream treats that involve waffles and éclairs, in addition to the popular ice cream sandwiches made with Phoebe's own cookies. Have you had the molasses cookies with vanilla bean ice cream dipped in white chocolate? Or the snicker doodles with wild berry? Or the chocolate chip cookie sandwich dipped in chocolate? What are you waiting for? The new location serves blended drinks and smoothies.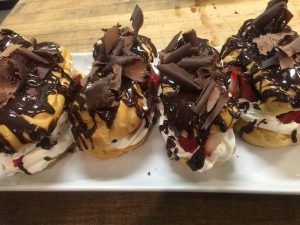 Martinson looks forward to being part of the neighborhood and for her son to connect with the community. She excels in building relationships through her food. For example, she is now making baby shower cakes for couples that previously had her bake their wedding cakes. Phoebe treats all the graduation, anniversary and birthday celebrations as if they were for her own family. As she affirms, Phoebe is up for a party every day.
There's off street parking available when you stop in to visit Jake and his crew. Initially the hours will mirror the original location. Check the Facebook page for updates. The shop will start out being closed on Sundays, but that might change, too. Both locations will have savory and sweet selections.
Everything on the menu at Phoebe's Pastry Cafe is made and baked on-site. Did you know that all the menu selections developed from Martinson's personal likes? Every sandwich has a story. Warm up with hot soup and a coffee. Enjoy a cookie. You, too, can have your cake… and then eat it.
And a final sweet note. People are already placing holiday pie orders. Phoebe's Pastry Café will be baking well over 1,000 Christmas cookies. It's not too soon to be making your list.
Eat Well – Be Well