I saw holiday cards at the office supply store today, but I am soaking in the pleasures of autumn before I turn my attention to December festivities. Produce at the Olympia Farmers Market is abundant. Deeply saturated colors like burnt orange and forest green invite you in for a closer look. It's not summer anymore, but the cornucopia of fall bounty is here.
Maryclair Rigby, a Midwest transplant works with Rising River Farm. She delights in this transitional time. You get to eat summery favorites like watermelons and corn as you cut up a delicately flavored Hakurei turnip for your salad. Maryclair also likes the Scarlet Queen, a turnip that might be mistaken for a radish or beet. Rising River's winter squash are curing which will sweeten them up. Her recipe suggestion is to cut a squash (she likes the delicata) in half and bake. Top with caramelized Cipollini onions, sage pesto and dried cranberries. Now that's an autumnal sensation. The Rising River Farm website has a spectacular collection of recipes for main dishes, salads, desserts, soups and more.
Jonathan Breger of Constellation Farm is noticing his increasing appetite for warming foods (thermal qualities) like soups and roasted vegetables. Carrots are wonderful, but be sure to explore other root vegetables like parsnips and turnips (mentioned above.) Green beans are ready for eating and canning. It's a productive time for leafy greens such as kale, rainbow chard, collards and lettuce. Behold the winter squash – funny shapes, weird bumps and great striping.
Let's take just a moment to remember the differences among gourds, squash and pumpkins. They do all belong to the same family called cucurbitaceae, so it's easy to lump them together. For the record, gourds make better decorations than sustenance. Squash, like Hubbard, acorn, delicata and spaghetti can be sliced and diced, roasted and pureed. They taste different, so see which ones tantalize your palate. Put them in soups, casseroles, cakes and smoothies – or top with butter and salt only. Multi-purpose pumpkins can be eaten, carved for decorations, scooped out for thematic soup tureens or dreamed about as magic carriages.
Jonathan likes to roast his vegetables kissed with a little olive oil plus salt and pepper for about 45 minutes to an hour in a 415-430 degree oven, just until they are caramelized. If you are not roasting them now, keep your winter vegetables in a dry place, out of the light, and at about 50 degrees, not in the refrigerator. Onions from Constellation Farm have been cured which means most of the moisture is gone. They'll likely keep until the end of December.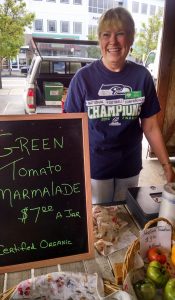 Nancy Zorad-Robinson is the owner, operator, market seller, and everything else in between for RainSong Farm, WSDA (Washington State Department of Agriculture) certified organic. You might know her as the tomato lady. During her first season at the market nine years ago, she sold 208 various heirloom tomato plants. This year she sold 4,200. Tomato season is winding down, but Nancy wanted to put every last tomato to good use. She rescued them from a fate in the compost bin and turned them into jam. You can pick between Heirloom Tomato Spicy Jam and Green Tomato Marmalade. The color of each batch varies by the tomatoes used. Her canning day begins at 5:00 a.m. and lasts until noon producing about two dozen jars.
RainSong Farm's jams will brighten your breakfast table. You might even put some of the spicy version on your ice cream. Paired with cheese and crackers, they'll be a hit at any event. The jams are a newer offering for RainSong. "I'm so excited to have something new to do and to offer," said Nancy. Stop by RainSong stall at the Olympia Farmers Market for garlic braids and peppers, too.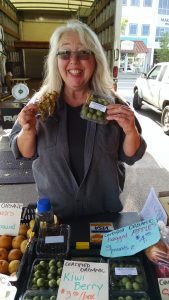 Laura Sweany's knowledge of plants and produce will assist on any of your purchases at Burnt Ridge Nursery and Orchard. They have fruiting and nut trees as well as ornamentals. Then there're all the treasures that come from their plants like black walnuts and kiwi berries. Sweany loves apples – many kinds for many reasons, but especially enjoys older varieties of apples with complex flavors and russetted (brownish, rougher) skins.
And here is one more tip: Chehalis Valley Farm is not always at the Olympia Farmers Market, but you can still contact them if you would like to order a turkey for Thanksgiving. You can also order a half or full pig. Pork will be available in March. Chickens will be available again in the spring.
Stroll the stalls at the Olympia Farmers Market. The glories of fall await you. The Market is open Thursday through Sunday from 10:00 a.m. to 3:00 p.m. through October and then shift to their winter hours, open on Saturday and Sunday from 10:00 a.m. – 3:00 p.m. in November and December.
The Olympia Farmers Market accepts WIC, EBT and senior checks. You might consider supporting the local economy with a Farmers Market Gift Certificate. Have you seen the Sustainable South Sound Coupon Book? You can save up to $5,000 while doing your local shopping. Purchasing one will also get you five Market tokens. They spend like money at the Olympia Farmers Market.
If you want to sign up for the newsletter, you can do that through their website. Follow the Olympia Farmers Market on Facebook or Instagram and Twitter #olympiafarmersmarket.
Eat Well – Be Well
Sponsored