A new school year is upon us. Pencils are sharpened, lockers are clean and backpacks are packed with new supplies. And, in North Thurston Public Schools (NTPS), teachers, parents and students are excited to start a new era of leadership under the guidance of Superintendent Dr. Debra Clemens.
Former superintendent Raj Manhas retired at the end of June after seven years of hard work, resulting in tremendous progress for the district. His legacy is one of increased student success, staff unity and a climate of compassion. He left the district with sound finances, strong public support and a positive direction for the future.
Clemens comes to NTPS from east of the mountains, having served as superintendent of Cheney Public Schools, leading the district forward for the past four years. However, Clemens' career in education started more than 25 years earlier. The Wisconsin native began teaching at the middle and high school level in Wisconsin, specializing in instructional technology and business. Her tech savvy quickly earned her a spot as a district technology specialist and she began teaching colleagues, keeping them up-to-date on the latest technology innovations and how to integrate them into the classroom.
She married husband Jeff and became the mother of two daughters, now ages 11, who will be attending Chinook Middle School, and 15, attending North Thurston High School. Several family and job related moves took the Clemens family around the mid-west and eventually to eastern Washington where Clemens earned her MBA and PH.D. at Gonzaga University and her administrative and superintendent credentials from Washington State University. When changes in Jeff's job necessitated travel west of the mountains, away from the family more than they liked, Clemens began thinking about a move west. About this time, a NTPS search consultant contacted her about the upcoming retirement of Raj Manhas and, as they say, the rest is history.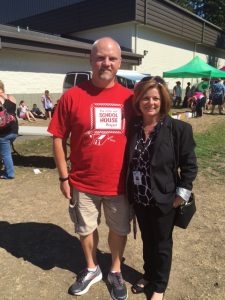 Clemens brings her deep understanding of education coupled with the experience of running a district where she was intimately involved in all aspects of the Cheney Public Schools. From transportation to nutrition to instructional practice to extra-curricular activities, Clemens consulted with teachers and leaders to create the strongest and most effective programs. This broad knowledge gives her a leg up in understanding the vast number of moving parts involved in successfully leading a school district.
When considering the North Thurston Public Schools superintendent position, Clemens saw many aspects closely aligned to her educational philosophy. "The district isn't only committed to helping students develop their academic skills, but also committed to raising quality human beings," she shares. "Also, North Thurston Public Schools has identified having a trusting work culture as important. We know that students thrive in a positive climate and culture. The same is true of adults."
In this positive climate, Clemens points out that academic success and educating the whole child are given equal priority. "The term 'the whole child' is tossed around a lot," she says, "but what it really is talking about is providing the social and emotional support to help a child be successful in school and in life."
Clemens first encountered these foundational guidelines of NTPS in the Strategic Plan. This comprehensive document is an annual roadmap for the district to ensure a clear direction promoting student success, focused on six major areas: math, science, language arts, student support, community engagement and operational and fiscal effectiveness. Study of this document reassured Clemens that NTPS was a good fit for her educational experience and philosophy.
Based on this guiding document, Clemens and district staff have created the Superintendent's Entry Plan. This dynamic, responsive document will help guide the new superintendent through a purposeful learning process as she engages with staff, students and the community to deepen her knowledge of North Thurston culture. The plan includes concrete steps to be updated as they are underway or completed. This online document is a great way for stakeholders to better understand Clemens goals and progress.
"The entry plan recognizes that people are happy with what is going on in the district," Clemens says. "I have been hired by the Board to move forward the work of the district and what I've heard over and over again is that people are excited to move forward on a path of continuous improvement. They aren't looking for big changes because they believe in the work that is already underway." With clear charts, color coded areas of focus and symbols to denote progress, the plan is simple to navigate.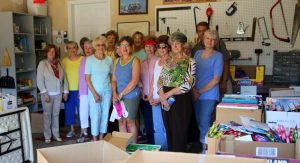 "The entry plan is really about a year of listening, learning and leading as we make adjustments based on the feedback we hear from a variety of stakeholders during individual, small and large group meetings," summarizes Clemens.
Clemens is excited to bring new ideas to the district as well. "We are adding four student advisors to the school board to strengthen student voice to the district," she shares. "We are also developing the Superintendent's Student Advisory Council which will likely include a student leader from the fifth, eighth and twelfth grade, from each school in the district." These opportunities are a purposeful way to provide a forum for students to show, and grow, their leadership skills.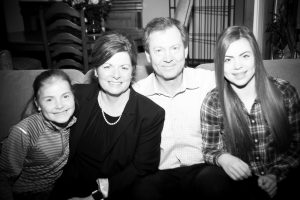 Staff can look forward to Clemens' "Listening Tour" this fall as she visits each school and department, meeting with staff to learn what is going well, what needs improvement and how she can help. Community members can anticipate Clemens' "Community Conversations" later in the fall where they can meet the new leader in person, learn about her entry plan and ask their own questions.
"I feel so lucky to have landed here," say Clemens. And, as staff, students and families in the North Thurston Public Schools get to know their dynamic new leader, they will feel lucky to have her as well.
Sponsored