Summer officially ends later this month and the Gateway Rotary Club wants to help you squeeze every last drop of fun out of the season at their fourth annual Brats Brews and Bands event. Taking place from 1:00 to 10:00 p.m. on Saturday, September 9, 2017 the event includes fantastic food, a wide array of beverages and two stages with music all day long. Tickets are $10 each and can be purchased online or from a Gateway Rotary member.
While the focus of the event is to provide top-notch entertainment, food and beverages, the real goal is to raise funds for local charities serving children and families in need. "All rotary groups are international service organizations with a local community focus," shares incoming Gateway Rotary president Jeff Ott. "Brats Brews and Bands is our main fundraiser and as a group, we've chosen to focus on groups that help those who sometimes get forgotten – the kids and their families who might be struggling."
Event funds will help to support family-focused charities throughout Thurston County and past recipients of funds have included Homeless Backpacks, Lacey Police Explorers, Rebuilding Together Thurston County, The Gold Star Wives of America and the Boys & Girls Clubs of Thurston County.
This year, the event continues in their fantastic new location at The HUB at Woodland Center in Lacey. This spot was enjoyed by all in 2016 and has more space for fun, both indoors and out. Located at 676 Woodland Square Loop SE in Lacey, the venue includes grassy areas, plenty of parking, and the roomy, walk-through interior event space for lifting a mug to cheers with friends.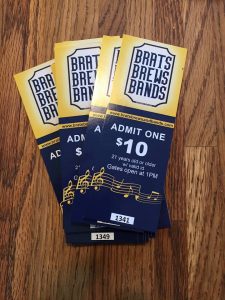 This year, the BBB event has partnered with the Tour de Lacey, a fundraising bike ride starting and finishing at Huntamer Park and raising funds for the Boys and Girls Clubs of Thurston County. With a 44 mile, 14 mile, eight mile and 3 mile options, nearly anyone can join the ride.
The Tour de Lacey has sponsorship opportunities available and cheering spectators are always welcome. To register, visit the event page online. For more information on volunteering or becoming a sponsor, contact Kimberley Baumann at kim@soundadvantagerealty.com or 360-481-3614.
As the new home of Ricardo's, the primary food provider at the event, The HUB will make the food prep and serving much easier. Chef Ricardo's signature brats will still be the star of the show this year offered at $5 for the signature and $7 for the new Terminator Brat. For those not in the "brat" mood, a house-made chicken Caesar salad will be available along with sides including baked beans and custom baked German-style pretzels. Forrey's Forza, host of each month's Gateway Rotary meeting, will also be attending serving Italian sodas and delicious homemade TC Pies.
Seventeen craft beers (and two craft ciders) will be on tap for the event, served in several locations throughout the venue. Local favorites such as Dick's Brewing Company and Spire Cider (crafted by Fish Brewing Company) will be flowing along with favorites like No-Li Brewery in Spokane and 7 Seas Brewing in Tacoma. Visit the event's beer page for a full list of options. Each cup is just $5. Not a "brews" fan? Never fear. Red and white wines from Maryhill Winery in the Columbia River gorge will also be available.
Once you have a full cup and a full belly, settle in to enjoy the 10+ bands scheduled to play throughout the day. As in years past, Brats Brews and Bands will have two stages with live entertainment starting at 1:00 p.m. and lasting until close. With the new venue, the two stages will be on opposite sides of the HUB building with the indoor corridor connecting them. Both the north and south stages will feature food and beverages nearby and covered seating and tables to enjoy the music.
Olympia's LOTT Troubadors open the day on the north stage at 1:15 p.m. Rochester-based Exit 88 will be back later in the day, entertaining with their classic and modern rock sound. Dudes USA play a mid-day set and Olympia's own Hurts Like Hell will be the final act on the south stage with their signature blues sound.
Gateway Rotary loves their community and Brats Brews and Bands is an event in celebration of the good we can do, and the fun we can have, when we all work together. Grab your (21+) friends on Saturday and enjoy the food, drink and music that you'll find in the heart of Lacey.
Gateway Rotary wants everyone to have fun and to get home safely, so please drink responsibly. Free drink options available for designated drivers.