Like many people, I am not a fine art collector but I have cherished art. When in elementary school, my children created much of it for me. I purchase whimsical postcards on vacation to remind me of a happy family time. Then I wait patiently for the 50% off coupons for framing in the big box stores to arrive in my mailbox.

Imagine my surprise when I discovered that high quality, archival framing is done at Olympia Framemakers for the same price every day as that so-called sale price elsewhere. After meeting Carolyne Hart and seeing the art in her shop, I won't be going anywhere else.
Olympia Framemakers has been in business for 40 years. The original owner sold it to Carolyne and her family in 1982. The shop was located in a strip mall, known as the Capitol Village Shopping Center until Carolyne purchased the house on Harrison and moved the business in 2009. With the help of South Sound Bank and the SBA, Carolyne was able to expand her space to include the showroom, office and a full custom frame shop.
Carolyne didn't intend to be in the framing business. She grew up in Europe, the child of a military family. While she fondly remembers asking her parents, "Do we have to go to another museum?" her love of art was born. In post-war Europe, Carolyne learned the value of manners and culture. She respected artists and the way the art can be integrated into all aspects of daily life.
She moved to the Pacific Northwest when she was a teenager. Her family bought a large property on the Key Peninsula in rural Pierce County and she was put to work helping her father build his retirement home. While she missed Europe with its gorgeous architecture and social graces, the natural beauty of her surroundings inspired her. She had a picture of Mount Rainier in her bedroom as opposed to the rock star posters that adorned the walls of her peers.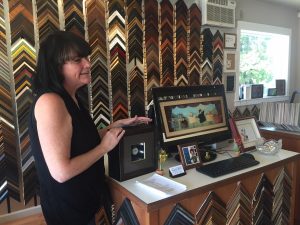 Carolyne studied Comparative Religion at the University of Puget Sound. She was a philosopher and wanted to understand the world. "I wanted to know everything," she tells me. She knew that religion was at the core and defined the beginnings of most cultures. She became a minister and started a family.
As a mother of two young boys she was only involved in the framing business part-time in its early years. Today Carolyne is a full time designer/owner and she has brought her art sensibilities full circle to the work at the shop.
Carolyne speaks passionately about the art that comes through her front doors. Each piece is treated with the respect of a Rembrandt—which she has framed along with pieces by Chagall and Picasso. "Each piece of art work is a spiritual gift that an artist gives to the world," Carolyne explains. "It has a voice and we provide a protective space so that artwork can have the most impact and the loudest voice."
Olympia Framemakers is a full-service frame shop. They can do everything from framing a child's portrait to a shadow box encasing a precious family heirloom. Just visiting the studio provides inspiration to pull out the old family photos and display them in a beautiful way. Photos of her own family are framed along with prized family mementos. The employees at Olympia Framemakers are all designers and work together to create the most beautiful and functional cabinetry for your art. There is a combined 75 years of experience in the shop between the owner and her three employees Emily Kate, Leah Campbell and Eric Sarai. Each customer is given the same level of design work and attention from huge hotel installations to a child's handprint.
"Art begins as nothing," she explains. "A customer brings in something that began as simply paper and a pencil or a piece of chalk and together we go on journey through the design process to make a space for a piece of artwork to be seen and heard in a room." Carolyn goes on to tell me that the creative energy in the art lives on as a message from someone's inspiration.
The designers at Olympia Framemakers love the reaction they get from the customer who returns to pick up their framed piece. They will often tear up when they see it for the first time or return to share the compliments that they got from visitors to their home. "We can match a mat to the color of your sofa if that is what you want," Carolyne says. "But we are creating a stage for the artwork to be truly seen."
The artist community in Olympia is very important to Carolyne and the other designers at Olympia Framemakers. She would love to see more of an effort to capitalize on the immense talent that we have here in Thurston County. "The success of Arts Walk shows us that we could sponsor more art events and become a mecca for artists around the country."
When Carolyne was a young girl, her father would ask her daily what she had done for the world. She shared with me that she had often wondered when she started in the framing business if she was doing enough for humanity. What better gift is there than to give our community truth and beauty?
Olympia Framemakers
1822 Harrison Ave NW in Olympia
Hours: Monday through Friday from 10:00 a.m. – 6:00 p.m.
Saturday from 10:00 a.m. – 5:00 p.m.
360-357-3232