We've written about Simon Calcavecchia's amazing achievements and contributions as someone with quadriplegia. But this time, he's the one telling a story, one of acceptance and determination, in the form of a kid's book.
Enter The Adventures of Frank and Mustard Stuck in the Mud, a story Simon wrote based on his own experience of overcoming obstacles. Now, he's sharing the book (and his motivation) with area schools and students, from preschool to high school.

Teaming up with local artist Arturo Alvarez, who Simon met through Procession of the Species, the two took the concept of telling a story that sends messages of community and resolve.  The characters include a Dachshund with wheels in place of back legs, and his little yellow bird buddy Mustard. The book, geared toward readers in primary grades, also has playfulness and fun. (Spoiler alert: in the end, everyone gets ice cream!)
Released in late May, the book is already rippling through the community. It is on sale at many local businesses (Orca Books, Traditions Cafe, and Captain Little, to name a few) and Simon has spent hours at local events, pleased to be spreading disability awareness. His favorite engagement, however, is volunteering his time to share the book at area schools.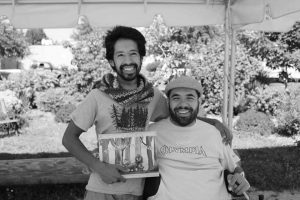 Starting with L.P. Brown Elementary, and making his way to half a dozen others, Simon looks forward to continuing the momentum this fall. While visiting the schools, Simon tells his own story of spinning his wheels while on a muddy botanical garden trail, eventually gaining traction through the help of friends and staff. He then brings the conversation around to his audience, asking others to share times when they've felt "stuck in the mud."
"I want kids to think about the power of community," he says. "And to not be afraid to ask for help."
"I have found where I want to focus my energy," he adds. "It's been a blast."
Simon has been working with kids since his time spent at The Evergreen State College, where he had an internship at Hansen Elementary. He has also spent countless hours volunteering at the Hands On Children's Museum.
"My favorite is chasing the kids around the playground and letting them chase me, because I'm just a big kid myself," he laughs. "I just love their spirits. They believe in so many possibilities."
L.P. Brown librarian Carol Hahn was the first to invite Simon to talk with students and encourages other schools to do the same.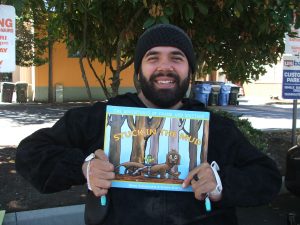 "He was delightful to chat with. Children warmed up to him immediately and truly enjoyed his adventure and how the story was based on actual events that happened to him. In fact, they are quick to tell me if they've seen him out and about in our community. They are true fans," she says.
Katie Linich, a special education teacher at East Olympia Elementary, also hopes other schools will invite Simon in, particularly during October, which is National Disability Employment Awareness Month. Linich's classes had been studying authors and writing their own stories when Simon came to visit.
"It was really exciting to meet a real live author," says Linich. "The kids had really good questions about his condition and they were totally enraptured with the experience. I think Simon is an extremely passionate author and I'm really excited about what he's going to do. This is such an empowering tool for all kids."
Simon agrees. That's why he's reaching out to all ages, including students at his alma mater Capital High School. He notes that while the book can seem boring to older kids, the message and discussions that come from his visits meet students where they're at.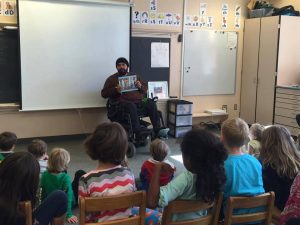 "Simon, you rocked in all three classes today: English, Advanced Marketing, and Leadership," wrote Kristi Bonds, Capital High librarian in a thank you email to Simon. "Your message of the power of volunteerism, the spirit of adventures, and the ambition to follow your passions will be remembered by all. Thanks for selflessly sharing with us!"
The adventures of Frank and Mustard will only continue. All money earned from the books will go back into publishing more in the series. Arturo plans to animate the books and Simon plans to keep sharing with students, expanding his reach into surrounding counties and states.
"I couldn't have asked for a better path," says Simon. "I'm so thankful and inspired to have a positive impact on our community."
Simon's next public event will be at Orca Books, Saturday, July 23, at 11:00 a.m.