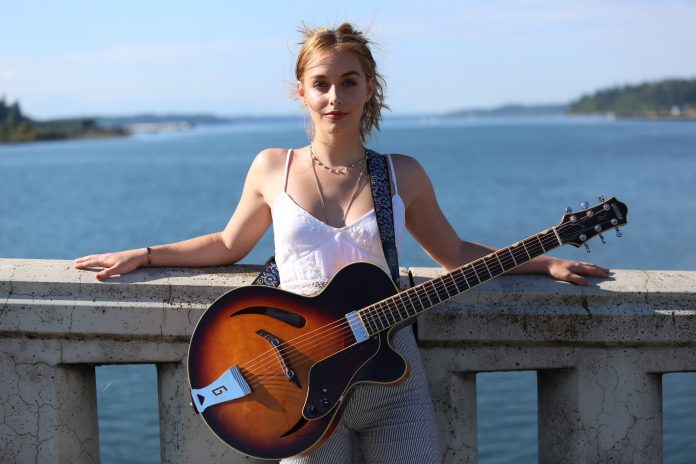 Chloe O'Brien has spent the majority of her twenty year life establishing herself: be it geographically from hometown Queenstown, New Zealand to the Olympia area in Washington, to the Boston area to attend the Berklee College of Music, and newly starting from the ground up in the professional music world.
Take one look at the singer and you can practically see the whimsical vibes radiating off of her. But it's not the type of reckless whimsy that leads to trouble; she has crafted a carefree outlook combined with a motivated lifestyle.

"Music is the best part of life," said O'Brien, who has derived much of her inspiration from influential artists such as Norah Jones, Muse, Kimbra and modern alternative rock bands.
The Bohemian-styled girl is small in stature but converses in a clear and captivating voice, and describes herself simply as free-spirited, wide-eyed, and motivated.
Donna McElroy, voice professor at Berklee College of Music, testifies of O'Brien's destiny for success.
"She already seems to be a success because she knows what she wants and is not afraid to work hard for it," McElroy said. "After the work, being inspired to continue creating has become my sign of a successful person. I think Chloe, with her thirst for singing and writing, is destined therefore, for success."
McElroy explained that success is enigmatic, but has the view that a successful performing artist involves a bit of chance beyond what an individual's composing and performing skills are. "By success, if you mean, the next Gaga, I think that is something that will have to happen to Chloe, as a result of her composing and performing."
On January 31, O'Brien officially released her first recorded song, "Eulogy." The song is available for purchase on iTunes and Spotify. It recounts a special moment in a past relationship, with the lyrics "and you flashed me your sweet smile/ and we danced down to the water, wrapped in blankets and each other," alongside an acoustic guitar played languidly.
"It hasn't been career-defining, but it's out there," said O'Brien about the melancholy melody. "It's just the first small step in my music. I expect my EP [to have] a lot more measurable success."
Growing up, parents Betsy and Mark O'Brien maintained a musical household: Mark was a multi-instrument musician, and Betsy frequently sang with and to the young Chloe and brother Manny O'Brien.
The New Zealand native didn't move to the United States until age 11. O'Brien recalled the move as being a tough stage of her life, but it ultimately proved to be the blessing that brought her to the performing stage.
"I had a full-on New Zealand accent, I had never heard of Pokemon, and the whole realm of American culture was really not on my radar," she said. "Eleven-year-olds are not the nicest age group. Playing music was definitely an outlet."
O'Brien started performing onstage with a rock band around this age, eventually staying for nearly six years as lead vocalist and rhythm guitarist in her own rock band named Outnumbered.
"It made me love music. I got to be onstage running around, singing about my teenage angst," O'Brien said, chuckling when she explained that she thought that her and the five members of Outnumbered would become famous.
Although the different paths of the lives of the band members eventually outnumbered the members of Outnumbered, the original love of music stayed solid with O'Brien, enough to take her to the East Coast with the destination of Berklee College of Music.
"When you find something that makes sense, that's what you need to do," O'Brien said.
At the Berklee College of Music, O'Brien is a professional music major, which focuses on songwriting, music business, and music production and engineering.
"I really just want to be a performing artist, able to record, tour, and share my music," the college junior said. "I'm probably going to go to Los Angeles and just go for it."
O'Brien is currently gearing up on the biggest push of her musical career by putting the finishing touches on a six-track self-titled debut EP that will be formally released upon the conclusion of summer. The culmination was written by O'Brien, with the meat of the content written between September and November of 2015. They were recorded in a home studio in friend Jonathan Elyashiv's apartment, with the drum and piano accompaniments recorded in studios at Berklee.
O'Brien is regarding Chloe Jane as a career-starter, agendaless and with non-controversial topics, but with lyricism and feelings that people can identify with. She says the songs are expository and meant to recognize human feeling.
She encourages other aspiring musicians with blunt truth. "If you really feel like music is what you want to do, and nothing else makes you feel as elated as playing music does, then just go for it," O'Brien said. "You can fail at what you don't want to do. You might as well go for what you want to really do. Life will always be up and down, so you might as well have ups and downs doing what you like."
O'Brien's EP Chloe Jane is estimated to be released on September 24.