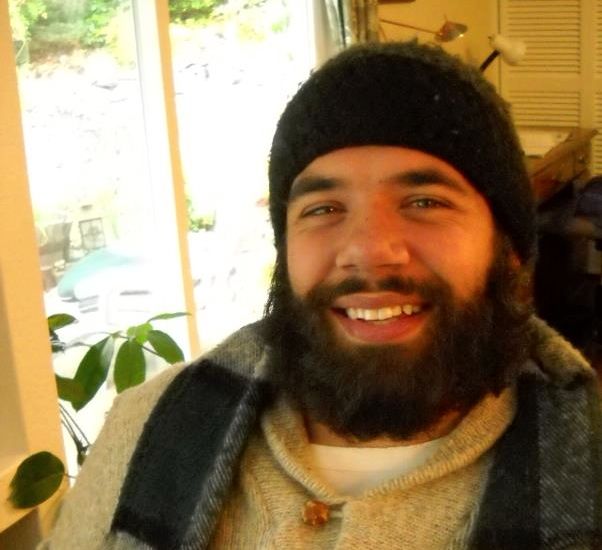 By Nikki McCoy

Eight players, donned in jerseys and sweatbands, and seated in what looks like armor-laden wheelchairs, circle the floor. Then one team makes a play, and it's the smashing and crashing of wheels, bodies and ball.
Wheelchair rugby may be Simon Calcavecchia's latest hobby – but it's not new.
Before an injury that paralyzed much of his body, Simon attended Capitol High School, enjoying life as a typical teenager. A lover of sports, especially anything where he could "run the ball" led him, a group of school mates, and Coach Pete Sullivan, to bring the first organized rugby team to Olympia.  The year was 2000, and Simon was a junior.
"We had a tremendous bunch of fine young men," reflects Sullivan. "Simon was a powerhouse, a solidly built rugby player, and he had a really outgoing, dynamic personality and an infectious smile – he seemed to really enjoy this new sport."
The second year, their team – the Budd Bay Barbarians – won the state championship and took 5th in the nation.
It was after this feat, and graduation, that Sullivan invited Simon to live and play a season in Australia.
"I was sold as soon as he finished his sentence," laughs Simon. "I was having the time of my life, living on the beach – living with a bunch of rugby guys and just having an incredible time."
It was a scrum play, during his third game in Australia, which instantly broke Simon's neck, causing a C-5/C-6 injury, resulting in quadriplegia.
"I woke up with tubes in my throat, unable to move," says Simon. "I remember waking after surgery with my mom and dad there and I'm just laying there with tubes coming out of me – I can't talk, I can't move, tears are just streaming down my face."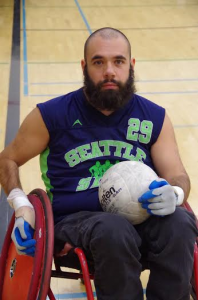 "I never really had that depressing, down and out feeling – except for a couple of moments," he continues. "I always believed I would walk again – that's what's carried me through this entire thing. It helps keep my spirits alive and well, plus I had so much support from the people of Australia. I had only been there a month and a half, and I built all of this community up – I had so much love and support."
That community spirit resonated with Simon.
Now, he works at the Olympia Food Co-op, he's an ambassador for GRuB, he volunteers at Olympia Film Society and Hands On Children's Museum, he graduated from The Evergreen State College, he is a hip-hop artist who goes by the name Abiliti (he just performed at Lord Franzannian's Vaudeville Show) and has a YouTube channel with more than 40 episodes exploring the life of a quad (stockcar racing anyone?).
His community involvement doesn't stop there. Simon is also an artist. Last year, he worked with a team to create a komodo dragon for the Procession of the Species. Mounted to his power wheelchair, the dragon came to life.
"I've been able to realize that – especially with building the dragon – how much the community is there for me and wants to be a part of the things I'm doing to create these adventures."
Because of his artistic interests, and his passion for accessibility, Simon is working with members of Earth Bound Productions and Kokua Services, (both agencies support Procession of the Species builders) to bring support to artists year-round, not just during the seasonal Arts Walk.
Simon's own experience made him realize this is something Olympia needs.
"It's so vital to me to be able to create something and not have to depend on someone, or pay someone to be able to help me," he says. "It allowed me to express myself in another art form."
The Inclusive Community Art Space Project, as it will be called, is described by Chris Rasmussen-Barsanti, Executive Director of Kokua, as "a place where people, regardless of ability, disability, age, or socio-economic factors, can come together and create art."
And her thoughts on Simon?
"Simon's like a cheerleader," she says. "I feel like he's telling the world, 'Come on guys, life is short, come on and live!' I find him inspirational."
This momentum of risk, leadership and success has brought Simon into his next phase of his life – physical activity. Beginning with simple workout routines, then sharing them on his YouTube channel, and viewing others, Simon became inspired to try rugby again, and found his team – Seattle Slam.
"Wheelchair rugby is a great fit for him," says Coach Jeremy Hannaford. "He's just got that go get 'em mentality. He's a high-spirited dude and was gung-ho from the start.  Even in the beginning, he wasn't fast  and he didn't know what he was doing – but he did it all with a smile on face. And now he's doing really amazing, he's grabbed on and learned a lot."
Simon has organized a fundraiser for Seattle Slam to offset travel and equipment expenses. The event is Saturday, Oct 18 at the Olympia Armory. Tickets are $5 and a raffle will be part of the fun.
But, Simon also wants to raise awareness.
"I want to show people, even though we may have disabilities, we can still feel normal by having this outlet to engage in athletic activities," he says.
"Plus, I want to have a really good time and show my hometown what wheelchair rugby is all about."
His smile is as big as ever.