Are you ready for an adventure? Do you want to do something different and exciting this summer? It can be all too easy to get absorbed by our daily lives, to become so focused on our routines, work, school, and family, that we forget our inner adventurer, calling out to visit a National Park this summer.
A visit to a National Park is an excellent way to pursue adventure, get in touch with nature, and reconnect with yourself and your family. This year is the 100th anniversary of America's best idea, and what better way to celebrate the National Park Centennial then to visits the majestic National Parks of Washington State?
Use Olympia as the launching point. Olympia is located 1.5 hours from the closest entrance to both Mount Rainier and Olympic National Parks. This central location makes Washington's capitol city the perfect jumping off point to some of the most stunning scenery the nation has to offer. Visit the lush, emerald rainforests of the Olympic Peninsula, discover a secluded beach on the wild Olympic Coast, and marvel at Mount Rainer's 27 glaciers, all a few short hours from the vibrant Puget Sound.
Thurston County offers a variety of comfortable accommodations, from cozy bed and breakfasts to vacation rentals or hotels. Use the lodging list on the Olympia-Lacey-Tumwater Visitor and Convention Bureau's website for more ideas.
As you get ready to hit the road, start your morning with Left Bank Pastry's buttery croissant at the Olympia Farmers Market. Pick up a coffee to go from downtown Olympia's Batdorf and Bronson coffeshop. Pack a lunch and spend the day hiking, sightseeing, and enjoying nature in Olympic National Park, watch the sunset on the wild Olympic Coast, and be back in time for an excellent evening meal at Olympia's Budd Bay Café or Iron Rabbit.
There are so many ways to enjoy the National Parks. If star-lit nights, s'mores around the campfire, and cuddling up in a sleeping bag is your thing, the parks offer excellent camping options. But what if your ideal vacation is more crisp white sheets, indoor plumbing, and modern amenities than tents and weeny-roasts? Or maybe after a couple of days of camping you want nothing more than a burger and a shower? No problem. The parks are so close to Olympia that you could stay in town each night, reveling in the unrivaled scenery of National Parks by day and enjoying the conveniences of the city by night.
The next day, start your morning at Obsidian with a legendary waffle and then head to Mount Rainier to see what all the fuss is about. One of the nation's first National Parks (pre-dating the establishment of the National Park Service by 17 years) Mount Rainier's centerpiece and main attraction is the Northwest's tallest mountain, which is also the most glaciated peak in the contiguous United States.
After stretching your legs on your choice of over 260 miles of hiking trails, enjoy lunch at one of the park's lodges. Make sure to visit Mirror Lake and Paradise for superior photo opportunities and then stop by one of the park's visitor's centers to plan your excursion for the next day, before heading back to Olympia for a great night's sleep.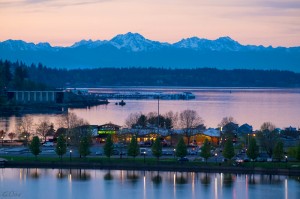 Whether you're a history buff, a mountain climber, or something in between, the National Parks in Washington State have something for you. After visiting Olympic National Park and Mount Rainier why not try to visit all of Washington's National Parks, from Lewis and Clark National Historical Park to the rugged, glaciated peaks of North Cascades National Park?
Adventure beckons at your National Parks, and Olympia is at the center of it all.
Sponsored