Ellen Rice, coordinator of the Old Growth Mountain Dulcimer Club, insists that a dulcimer is easier to play than you may think. "Mountain dulcimers have been called the 'potato chips' of instruments because they are quickly addictive," says Rice.

"I found a dulcimer at a folk song weekend," she tells me. "I was very frustrated, though, because there were some basic questions I did not know the answer to. So, I put up a sign on the Island Market bulletin board announcing a dulcimer jam. I didn't really know what a dulcimer jam was, but 18 people showed up at that first meeting. We played a bit and talked a lot. Some wanted to play more, but I didn't know how to play well enough, or the tunes others knew."
The first jam was two years ago. "It was a little bit of a rough start, but Steve Middleton, a very accomplished player, attended. He had good suggestions and we grew from there," says Rice.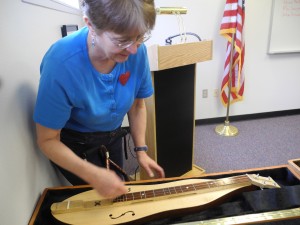 Rice pulls a chair out for me, and hands me a dulcimer. She is intent on me trying this instrument.
"You don't have to have a strap around your back. This is not a lady like instrument," she says showing me how to sit and hold the dulcimer. Pointing out the relationship between the frets on the instrument and the numbers on the music, Rice adds, "Beginners only have to play on the first set of double strings. You just strum through on the rest. This is a high-success instrument, and a lot of fun."
She gives me a quick lesson as group members begin to arrive, saying their hellos and setting up their music stands. Ron Kunkle, a group member and dulcimer maker from Shelton, sets out instruments he has made on a back table.
"I use rosewood, chocolate mahogany, Sitka spruce, maple, mahogany, walnut, and cherry, Kunkle tells me.
"That one is a baritone dulcimer," Kunkle says, pointing to one. "I have made about 60 and sold several to group members. I found plans in the back of a magazine about 20 years ago. I waited until I retired, then built one for my grandkids."
Looking over the various dulcimers in front of us, he mentions that his first instrument has led to many more.
Other group members arrive, some from quite a distance including Margaret Harshfield and John Simurdak from Bay Center, south of Raymond.
"It is a good drive," says Harshfield. "When we come in, we try to do a lot of shopping and get some things off our list. We had a dulcimer for sale and through trying to sell that, we heard about this group."
Michael Fletcher found out about the group online. "There is a list online that has all the dulcimer clubs in America," he tells me. "I don't have any musical talent, but I can make a joyful noise on this."
"Dulcimers were very popular in the '70s as a counter culture instrument," Rice comments. "They are easy to make, closer to furniture than an instrument. All you really need is a sound box, fret board, and three strings. In that era, there were dulcimer kits you could order and put together. There was everything from quality to terrible, and a fair number of people who made kits back then still have them. Many people who come to our group have these old instruments."
Fred Thurman, from Aberdeen, shows me his dulcimer.
"I bought a cigar box guitar kit," he says, "but made a dulcimer out of it. Then I made a cigar box amplifier."
Stephen Middleton has been playing since 1974. "I play other instruments; this is one of the best instruments to learn how to play. I made one for my wife, but she never played it, so I messed around with it and kind of liked the sound of it."
Club members appreciate that everyone is patient and friendly. A simple love for the instrument is shared by all. As one woman comments, "It is kind of hard to be a dulcimer snob."
The music starts and I attempt to keep up. It is easier than I expected. I even manage to strum the correct fret once in a while. Group members are very supportive and encouraging. It is really quite fun.
Rice adds, "The dulcimer is a good instrument for anyone who always wanted to play something, but is on a budget or has limited time."
The Old Growth Mountain Dulcimer Club usually meets on the second Friday of the month at the Griffin Fire Dept. Station One, 3707 Steamboat Island Loop NW, Olympia, WA 98502. Doors open at 6:30 p.m. for greetings, set up, and tuning. Playing begins at 7:00 p.m., and usually finishes by 9:00 p.m. Walk-ins are welcome and encouraged to join in. Check their website for date changes.