By Drew Freemantle for Maid Perfect
Whether you are renting or selling your home, a good move-out clean can make all the difference. If you are selling your home a good first impression is a must. If you are renting a home it can be the difference between getting your deposit back or not. A detailed move-out clean can take anywhere from 2-8 hours. Maid Perfect has done our fair share of move out cleans and know the tips and tricks to make things good smoothlyand ensure you don't forgot anything.  If your schedule is packed, however, Maid Perfect can certainly put our expertise to work for you.  Just give us a call to schedule a thourough, move-out clean at 360-402-6248.
Preparation
It's important to have the right tools for the job. You can pick up a small caddy to put your supplies in at Home Depot. A portable caddy can make your job a whole lot easier and is worth the money. Below is a list of some of the most commonly used cleaning supplies.
Flat razor

Having all your supplies in one place, stored in a transportable caddy, can save a lot of time when cleaning a whole house.

Magic erasers
Pumice stone
Blue scrub sponge
Squeegee
Window cleaner
Small or large ladder, depending on house
Bleach
Cleaning cloths
Microfiber dusting cloth
Swiffer
Disinfectant cleaner
Toothbrush
Stainless steel polish
Mop and Bucket
Move-Out Cleaning Checklist 
Entrance
Door ( handles, glass )
Exterior light covers
Door base plate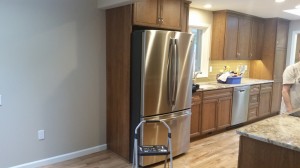 Kitchen
Dust high to low
Wipe out and vacuum inside cabinets
Wipe outside of cabinets
Stove tops (clean or replace burner rings)
Ovens inside and out
Microwave inside and out
vacuum floor
mop floor
Bedrooms
Dust high to low
Dust inside light cover
Wipe down base boards
Marks on walls
Wipe down closet doors
Wipe down shelves in closet if any
Vacuum or mop floor
General
Dust high to low
Base boards
Marks on walls
Vacuum and mop floor
Windows and tracks throughout home
Garage
Dust high to low
Vacuum floor
Marks on walls and doors sometimes can easily be removed with a magic eraser but they just may need to be repainted, so assess your situation accordingly.
Tips on cleaning 
Run oven through a cleaning cycle the day before you do the clean. This will make cleaning the oven a whole lot easier.
Sometimes it's just easier to replace burner rings than to clean them. This could save you a lot of time.
Vacuum window tracks before cleaning to avoid a muddy mesh and use a toothbrush to get in those hard to reach areas.
We sincerely hope that this information will help you and if you have any questions please feel free to visit our website www.maidperfectolympia.com or check us out on Facebook. To schedule a free estimate or a move-out clean call us at 360-402-6248.