Rain drops on roses and whiskers on kittens.
I love the Market – even when I need mittens. 
Celebrate spring and all its glory as the 41st season of the Olympia Farmers Market gets underway. Beginning Thursday, April 7, the market will be open Thursday through Sunday from 10:00 a.m. to 3:00 p.m through October.
Though the Olympia Farmers Market has been open on Saturdays through the winter months, April signals the renewal of the growing season with more vendors offering vibrant vegetables and fruits as well as many other consumables and crafts.
"I love the agricultural abundance that the market brings to us," says Mary DiMatteo, the Market's Community Outreach Manager. Over 90 vendors occupy spaces throughout the year. Products and produce are ever-changing as the season moves into summer and onto fall.
This year you can eat your favorite Los Tulenos burrito or Dingey's crab sandwich while listening to live music, including customer favorites such as Scuff and Al, The Pine Hearts, and Bevy, an all female Brazilian-Cuban-Swing-Blues-Jazz band. There are lots of new musicians, too. You'll meet The Driftin' Harbour Rats, Swing 49, and Intuitive Compass. Find specific dates on the Olympia Farmers Market's event calendar.
Savor even more of the market's bounty when you invest in a Community Support Agriculture (CSA) produce box. You pay a fee to a farmer in the early part of the year (now), a time when the grower is spending money on getting ready to grow the food. Then you get to receive a weekly bag of ever changing vegetables (could also include fruits, herbs, flowers, meat or cheese) over the whole growing season. When growing conditions are optimal, your bag might be a bit fuller – but you always get a bounty of amazing, locally grown goodies. I've had a CSA for years. It gives me whatever is at its peak season and saves me time. There's still time to sign up, and you can pick a farm to suit your personal preferences, which include content, size and location of pick-up. Learn more about a CSA in this article.
Remember to ask your vendor if they participate in Thursday Senior Day. You could receive a discount. The Olympia Farmers Market accepts WIC (Women Infant Children), EBT (Electronic Benefit Transfer) and senior checks. You might consider supporting the local economy with an Olympia Farmers Market Gift Certificate. Have you seen the Sustainable South Sound Coupon Book? Purchasing one will also get you five Market tokens (they spend like money at the Market.)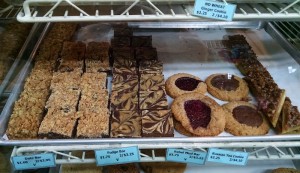 Everyone has a favorite reason for going to the Olympia Farmers Market. I am continually awed by the quality of colorful, delicious vegetables. We are incredibly fortunate to have a convenient outlet for produce packed with nutrients and grown with loving care by a community of dedicated farmers.
Of course, going to the Olympia Farmers Market is fun. Whether you are power shopping for dinner or lingering over coffee with friends, you're sure to find a bit of sunshine on any visit.
Sign up for the Olympia Farmers Market newsletter online or follow the Olympia Farmers Market on Instagram, Facebook and Twitter. Use #olympiafarmersmarket when you post a picture so we can all see the fun you are experiencing while at the market.
There's ample free parking and you're practically guaranteed to bump into someone you know.
Olympia Farmers Market
700 Capitol Way North in Olympia
360-352-9096
April – October Hours:
Thursday – Sunday from 10:00 a.m. – 3:00 p.m.
Sponsored