Submitted by Saint Martin's University
With more than 50 local, regional and international teams, including an increase to 16 teams in the women's division and an all-new junior division, the 11th Annual Saint Martin's Dragon Boat Festival is set for a record-breaking year.
This extraordinary event will involve more than 1,200 participants in a fun, festive day of dragon boat racing and multicultural performances, arts and crafts. More than 4,000 visitors from the surrounding South Puget Sound region are expected to join in the festivities at the Olympia Port Plaza on Saturday, April 30. This day-long event is free and open to the public.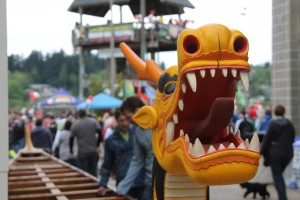 The day will kick off at 9:00 a.m. with welcoming remarks by Saint Martin's University President Roy Heynderickx, Ph.D., and Washington State Senator Karen Fraser, followed by the "Dotting of the Eye" ceremony, a traditional blessing of the dragon boats. The races will begin at 9:30 a.m. A total of 52 local, regional and international teams, including the Seattle Flying Fire Dragons, Team Tsunami and Rip City Paddlers, will hit the water for a day of fun and fierce competition. The paddlers come from universities, high schools, school districts, government agencies, community organizations and local businesses located in various areas, from Seattle to Portland.
In addition to the races, visitors can enjoy Chinese traditional art demonstrations, martial arts performances and music, starting at 10:00 a.m. The final heats of the race will commence at 4:00 p.m., followed by a closing and awards ceremony.
Dragon boat racing is a tradition that dates back to 4th-century China, commemorating famed poet Qu Yuan, who threw himself into the Milo River to protest the political turmoil and suffering of the people at that time. Today, dragon boat races are an opportunity to celebrate culture and community.
Saint Martin's University has been actively involved in education and cultural exchanges with China since 1995. Each year, members of Saint Martin's faculty travel to China to teach international business, accounting and general education courses. Saint Martin's students regularly participate in China study tours and internship opportunities in Shanghai and Hong Kong. In addition, 40 students from China are currently studying at Saint Martin's University.
The Dragon Boat Festival draws support from organizations throughout the Puget Sound area and the sponsors are Port of Olympia;  the cities of Lacey, Olympia and Tumwater; Squaxin Island Tribe; 94.5 ROXY; Capital Mall; Capitol City Press; Olympia Federal Savings and the Associated Students of Saint Martin's University.
"We are excited to continue with the tradition of the Dragon Boat Festival that Josephine Yung, vice president of International Programs and Development, started back in 2006," says Kathleen Thomas, director of Event Services and Dragon Boat Festival planning committee chair. "In the ensuing years, it has grown leaps and bounds with increased teams, vendors and festival attendees. Even if you prefer not to paddle, come out and experience the convivial atmosphere, enjoy the cultural performances and cheer on your favorite team!"
Paddles up!
For more information about the Dragon Boat Festival, visit www.stmartin.edu/dragonboat.