The vinyl record industry seemed to all but disappear with the arrival of the compact disc in the early 1980s. Why buy a warpable piece of wax that was easily scratched when pristine CDs offered cleaner sounds?
But a renewed passion for vinyl returned to Rainy Day Record Company in downtown Olympia a decade ago.
"Our CD sales have been steady since, but record sales have gone through the roof," said co-owner and store manager Adam Hardaway.
The store, founded in 1973, was selling $2,000 or $3,000 worth of records in a typical month. Now they sell $15,000 to $20,000 each month.
And who is spinning tunes on a turntable?
"We seem to have what I've heard from everyone in the industry: people under 30 and Baby Boomers," Hardaway said. "It's Baby Boomers who are getting back into vinyl because of real nostalgia."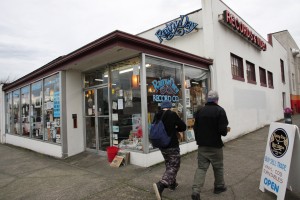 Young people who are hearing free music on the Internet became enamored of a work and want to own a copy they can hold in their hands, Hardaway said. It's also like a collectible piece of art, he added.
"A record is a real physical thing that you wear down as you use it. It ages as it moves through time. It decays; it's fragile," Hardaway continued.
Five years ago, no teens were buying records, Hardaway said. Now they're picking up classic rock albums reissued on vinyl and classic rap.
"We sell a lot of Beatles records and Pink Floyd records," he said. The store sells about 50 copies of Pink Floyd's "Dark Side of the Moon" each year, at $30 a pop for the reissued album.
People swing by to try to sell used records, many of them Baby Boomers who are downsizing. Hardaway said that sifting through someone's record boxes is one of the joys of the job. "People who loved the music keep them," he explained.
Growing up in a conservative family in Virginia, Hardaway was forbidden to listen to popular music. He was allowed to tune into an oldies radio station that played east coast "beach music" from the 1960s, mid-temp rhythm and blues not to be confused with the California sound of The Beach Boys. The Tams, best known for their 1968 hit, "Be Young, Be Foolish, Be Happy," best exemplified that sound.
"When I was a teen, my parents let up a little bit. Then I heard Nirvana, and I knew there was other music in the world," Hardaway recalled.
Hardaway first saw Nirvana's video for "Smells Like Teen Spirit" when he was 13.
"It was the first time any of it made sense to me," he said. It's not lost on him that he's working in the city where Cobain blossomed.
Hardaway tuned into 1960s music during his later teens. In 2000, he moved to Olympia to be near his mother, who had married a Thurston County man.
Twelve years ago, Hardaway was hired at Rainy Day Record Company, which was founded 43 years ago. He became the manager ten years ago. Now, he owns it with James Maeda.
Rainy Day Records also offers movie rentals — the films are categorized by director — and movie sales. It sells turntables, needles, record-cleaning kits and headphones. Music from around the world is offered on CD.
The 99-cent vinyl box includes copies of the soundtrack to "Doctor Doolittle" and "Jesus Christ Superstar," and Percy Faith's "The Music of Brazil."
When Hardaway started working at the store in 2004, sales of CDs were dwindling.
Like so many other businesses, they bottomed out financially in 2007 and 2008. Used records were selling for $2.
That's when the passion for vinyl returned.
Some people are drawn to give records a spin because they hear they are popular, Hardaway said. Hip characters on television are depicted digging the sounds coming from their record players, "a signifier of cool, because records have always been cool," he said.
"It's an addictive habit to buy and own albums," he said.
Hardaway predicts CDs will be the next cool thing. They sound good, are a cheap and convenient alternative and there are many in circulation.
Cassette tapes are also making a comeback. Rainy Day Records had stopped selling cassettes entirely, but customers were coming in asking for them. Now a section of the store is devoted to cassettes.
"People want to listen to music in the format it was intended to," Hardaway said.
Rainy Day Record Company
301 5th Ave. SE in downtown Olympia
360-357-4755
www.rainydayolympia.net