The holiday season whooshes in as November days evaporate into December. Time speeds up (quite the opposite of my childhood). Whether your gift list is as long as Santa's or short as a reindeer's nose, I love the Olympia Farmers Market for handmade treasures and food that makes my heart warm and my stomach smile. Heed the suggestion of Anne Wellings, owner of Sunrise Beach Pottery and "shop early."
The food and crafts at the Olympia Farmers Market are like a kaleidoscope – ever shifting and never exactly the same. Sunrise Beach Pottery dishes are unique, and what you find today may not be there tomorrow. Wellings has been supplying market shoppers with her pottery since 1994. Her colorful pieces are useful as well as beautiful.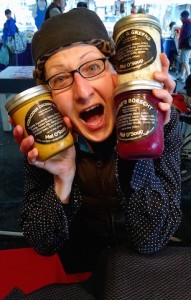 In case you're shopping for me (I can hope), my inclinations for a satisfying present lean towards food. But, not any food. Market products are fresh, local and made with thoughtful attention. It's easy to be busy these days, which makes prepared food ever more attractive, but you don't have to give up your nutritional concerns.
Consider Mel O'Soup. Engaging and talented owner Mel Bilodeau gets creative in her kitchen. Self-described Soup Goddess, Mel is rolling out a new recipe this December – Luscious Sesame Potato. She's titrating the exact right combination of toasted sesame oil, tahini, and Yukon Gold potatoes with a touch of apple cider vinegar and hints of sage and nutmeg. Her soups can be eaten right out of their containers, but you might want to take just a moment to heat them up! If it's too thick for your taste preferences, add liquid. Mel O'Soup's philosophy is that "it's all about soup for you." We are already deep into soup season, and she has several on hand for you to take home, share, or give away. This gift will save someone the time and effort of shopping, chopping and cooking. For up to the minutes news, check out Mel O'Soup's Facebook page.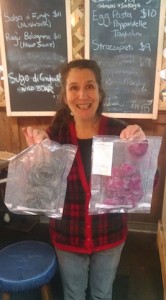 Johnson Berry Farm's seasonal offering is Concord grape jam with or without habaneros. It's a kick. The peppered jam will turn your leftover turkey into fabulous sandwiches. You'll also find chocolate raspberry jam or syrup – sweets for your sweet ones.
Lynn Villella plays music at Basilico Ristorante on the weekends, but you can meet her standing with the fresh pasta and sauces during the day. New this year to the Olympia Farmers Market, Basilico puts its taste of Italy into jars and bags for you to take home. How's your Italian? Try Sugo di Cinghiale in Bianco (wild boar), sugo divedure (vegetable sauce), or salsa di funghi marsala (you can guess that one.) All sauces are gluten free. Read the chalkboard for the daily specials. When I was there, one choice was Chitarrine de Nero di Seppia or squid ink guitar string pasta. Yes, it was black and square. Basilico pasta maker, Primo, crafts various flavored ravioli (like beet). They are frozen for you to use later. As the ingredient list says, every sauce contains a lot of love. I appreciate getting professional help with my meals anytime, and especially during the busy holiday season.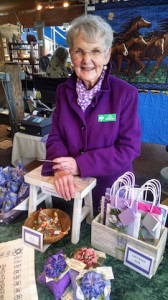 Give the gift of relaxing your senses with a stop at Miller Lavender and chat with Barbara Miller. She takes her homegrown lavender, dries it and makes sachets, pincushions and pillow inserts. She retired from North Thurston Public Schools and has been working at the Olympia Farmers Market for 11 years. She'll be spending January, February and March with her sewing machine in efforts build up her supplies. "I love it," she smiles. Miller appreciates meeting so many friendly people and sharing her lavender with tourists. When her private supply of lavender is harvested, she supplements it with lavender grown in other Washington locations. You won't be eating Miller's lavender, but you can take it to bed and dream with it. She keeps lavender in her bed – it works for her!
Honey Bear Farm has honey as usual, and you can also choose various candles, lip balms, eggs and more. More stocking stuffers are to be had at Backacher's Emu Ranch, which features emu oil and related products. Jim Glick can tell you all about his emus and how his products work.
Pieces to Peaces has soft, colorful headbands in sizes from babies to large-headed adults. Give the gift of fashion. Looking for a piece of hand blown glass or art?
Ginger Street Studio makes its year-round home at the market. Owner Joe Carruti is the artist and his wife Laura handles the business side of things. Each piece would be a glistening addition to a holiday table or tree. Yet, there's more. Gaze at the art to appreciate it in the form of metal sculptures or fine woodworking. It's like a trip to a museum, but everything is for sale.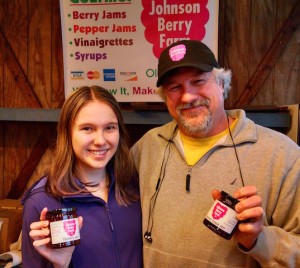 During the summer my visits to the Olympia Farmers Market are focused on the fruits and vegetables. I usually take a loop around the whole area to remind myself that there's much more to enjoy. When you take a winter visit, you'll still find some produce, but everything else has a chance to shine. The parking is free and easy. There's food galore if you brought your appetite. There's often music. And you'll surely see someone you know. Celebrate the joys of homemade and handmade. Whether you're looking for gifts for other or for yourself – bring a bag. You'll be delighted with a trove of treasures.
The Olympia Farmers Market is open from 10:00 a.m. – 3:00 p.m. on Saturdays and Sundays in November and December.  For directions and more information, click here.
Eat Well – Be Well