"Without a sense of caring, there can be no sense of community," explains writer Anthony D'Angelo. This is especially true of the staff at Olympia's Garden Courte Memory Care Community. In October, they honored one of their own with the 2015 Caregiver of the Year Award.
Kristi Williams was this year's honored recipient. Both supervisor Katy Gordon and Activity Director Viki Engstrom praise her long-time dedication and caring. At the award ceremony, Kristi was presented with a plaque, gift certificate, and community-wide praise and thanks.
A student of social work, Kristi started with Garden Courte in 2003. She took a break to continue her education but has been back with the facility for three years after obtaining her degree. She has loved her time at Garden Courte and admits that "the residents are my favorite thing about working here."
Nominations for this award are made by fellow staff, residents, or visiting family members. Viki Engstrom praises Williams as "a great caregiver who deserves the recognition."
She continues, "Kristy is always pleasant with the residents, never cross or trying to hurry them along. She takes her time with each resident and meets them at their pace. She always has a smile on her face and this makes the residents happy as well. Also, her quiet, peaceful demeanor helps the residents feel calm and this reduces the agitation or anxiety they may be feeling at that moment."
Aside from resident care, Williams also takes turns staffing the front desk and generally being a welcoming presence wherever and whenever needed.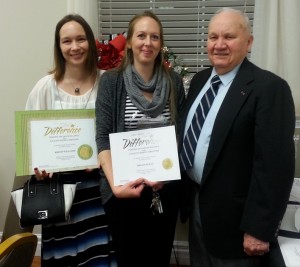 Kristi truly represents the care and support that embodies Garden Courte. They regularly host free or low-cost public events which feature caregiver support, educational Speaker Series lectures, and an informative newsletter. They also post frequent Senior Living blogs spotlighting emerging eldercare issues and trends.
Staff do more than care for on-site residents. Throughout the year they also raise money and donations for organizations across Thurston County. Their generous spirit means schoolchildren face the year with warm coats and full backpacks, while seniors can look forward to home cooking from freshly delivered Meals on Wheels.
Garden Courte's next event will be their Annual Professional Holiday Open House. Occurring Thursday, December 10 from 4:00 to 6:00 p.m., the afternoon features food, music, and a silent auction benefitting Community Youth Services of Thurston County. The event is free and open to everyone. Make sure to RSVP by December 5 to 360-491-4435.
Follow Garden Courte on Facebook for informative articles, photos from recent activities and outings, and details on future classes or fund-drives. With questions about their services, specialties, or resources, drop by at 626 Lilly Road NE or call 360-491-4435. And while you're at it, say an extra 'thank you' to caregivers like Kristi. She deserves it.