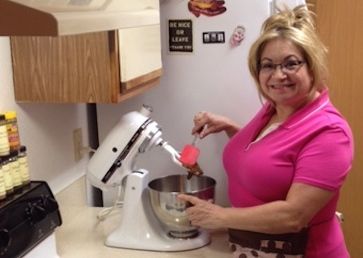 Kathy Underwood fuels her life with inspiration. At times there's a dash of impulse thrown into the mix. Maybe that's the reason one of the Olympia resident's cookie recipes appears in the recently published book called the Barnes and Noble Cookie Bake-Off Contest featuring 75 winning recipes from around the country. Her spicy Mexican Snowflakes will warm the hearts of your holiday guests and please all your cookie monsters.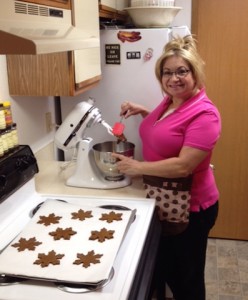 Underwood is not new to cooking. At the age of twelve she taught herself, when her mom was busy with school and a career, which included attaining a law degree from Stanford and being a college professor. Her sisters also benefited from Kathy's time in the kitchen. With a little help from home economics class at school and practice, she did the bulk of cooking and baking for the family. Underwood became an emancipated adult at sixteen and worked as a nanny. With an integrated heritage of German, Mexican and Irish, Kathy was willing to take her cooking in all directions. Her pretzels were popular. She especially liked the heat the certain spices like cayenne rendered.
One childhood memory is her mom buying Mexican breads such as pan dulce. Valentines Day meant gingerbread heart-shaped cookies. These images may have been swirling in the back of her mind the day she saw a contest flyer on the counter at Barnes and Noble. It was for a cookie bake-off. "I'm going to take one of these," thought Kathy. The flyer sat around the apartment for a while, but late on the evening of December 31st last year, the final day to enter the contest, Underwood decided to go for it. She had a good feeling and began the process.
The judging would be based on creativity and originality (25%), great ingredients (25%), flavor profile (25%) and technique (25%). The entry process proved to be lengthy and complicated enough so that she was slowed down by numerous glitches. The clock was ticking. It was minutes before midnight. Kathy kept working to get everything downloaded and then suddenly – though she thought she was not quite finished – she got a note thanking her for her submission. Because there was only one entry per person – that was that!
Winners were to be announced in February. Winter passed and Kathy hadn't heard a peep. But in May she received an email. Though not a grand prize winner, her recipe was one of 75 that had been selected from over 4,000 entries to be in a new cookbook. This fall, Underwood experienced a few minutes of fame the day she went to Barnes and Noble to sign books.
Her life in Thurston County is still in the settling in process. Kathy moved north from California a little over a year ago. She's been taking time to get acquainted with the area, take stock of her options and allow the next phase of her life to unfold. In the past she has had great success supporting and training businesses to maximize their efforts and returns. She's allowing her inspiration to flourish. I'm sure she'll be cooking up some fantastic adventures.
You can get your copy of the Barnes and Noble Cookie Bake-Off Contest with 75 winning recipes from around the country online. Or you can visit our local store.
Eat Well – Be Well