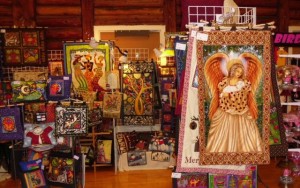 If the idea of facing bargain-hunting Black Friday crowds makes you want to crawl under the bed, consider a sustainable alternative to America's biggest shopping day: the Holiday Bazaar at Thurston County Fairgrounds. Vendors will offer a variety of hand crafted, homemade products that you can't find in any store. "You can enjoy the atmosphere and support your local craftsmen," says event coordinator Kathy Bailey.
Now in its fourth year at the fairgrounds, the bazaar was originally held at Saint Martin's University for over 20 years. "The word didn't get out that it moved," says Bailey. "My mom and I were vendors at Saint Martin's for 17 years, and people will say to us, 'I miss the bazaar.' We'll tell them, 'It's still here!'"  The event attracts between 3,500 and 5,000 people annually, depending on the weather. This year's event is scheduled for Friday, November 27 from noon to 4:00 p.m. and on Saturday, November 28 from 9:00 a.m. to 4:00 p.m.
Visitors can look forward to a combination of local favorites and new vendors this year. "For a start, we'll have artists that sell water colors, fudge, homemade caramel, holiday decor, stuffed snowmen, stuffed santas, glassware, candles, soaps, knitted and crocheted hats and scarves," says Bailey. Seahawks fans will have plenty to choose from, including batik renditions of the logo.
One popular booth sells handmade medieval-style board games. "They come on a leather board with stone and wooden pieces. They're unique. You won't find them in any store," she says.
Bailey encourages young entrepreneurs to participate as well. "I've got one child who is ten or twelve that has figured out how to do whipped honey," she says. "I actually met him because he sells his honey to raise donations for the animal shelter where I work. When he brought his donation into the shelter, I told him about the fair." Several other children will be on hand with their products.
On the other hand, no national brands or network marketing groups are invited. "Every crafter has to submit photos," says Bailey. "They have to be selling handcrafted items. I have turned vendors away who don't meet that criteria."
The Holiday Bazaar offers advantages for people shopping for multiple friends and relatives, or who are on a limited budget. "The prices are good," says Bailey.  Her booth sells handmade holiday decorations, while her mother's includes potholders and festive dog bones. "We sell a larger quantity because somebody will buy more of a small item versus something that's priced at $20," she says. "My mother sells hundreds of big dog bones with a ribbon on top for $3.50 every year. We get the same repeat customers. One lady comes in and buys 30 every year for the neighborhood dogs."
After 17 years as a vendor, Bailey volunteered to help coordinate the event three years ago. "I go through all of the applications and I'm in charge of advertising this year," she says. Along with the help of the Thurston County Fair board and other volunteers, she'll prepare and decorate the fairgounds, then be on hand to oversee the event.
Her motivation is simple. "I love the bazaar," she says.  "I think it's a good way to showcase the fairgrounds and the buildings that are available during the rest of the year to rent. It's a good way to bring people out and remind them that it's there, not only during the fair season."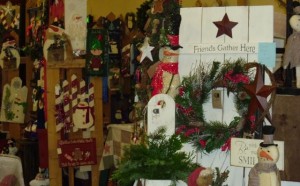 Ultimately, though, it comes down to one thing:  "Come and shop!" says Bailey. "We can't emphasize that enough."
For more information about the Holiday Bazaar visit www.co.thurston.wa.us/fair/holiday-bazaar.htm.
Thurston County Holiday Bazaar
Friday, November 27 from 12:00 – 4:00 p.m.
Saturday, November 28 from 9:00 a.m. – 4:00 p.m.