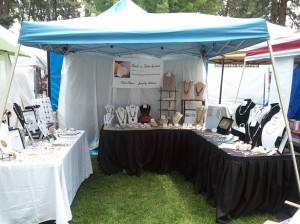 In her book America's Artisanal Market, author Kathryn Mahoney explores a growing trend: "As a consumer swamped with gimmicky ads and products, it is becoming increasingly important to develop an appreciation for real artistry, real artisanal goods. It really is what we all want. We want to be healthy, to give our bodies real food, to feel good about our choices and lifestyle, and to support the creative community and hard work of our fellows." With holidays fast approaching, the Shipwreck Beads Winter Artisan Market offers a way to do just that.
Happening this year on November 28 from 10:00 a.m. until 5:00 p.m., the Artisan Market coincides with Small Business Saturday and the long Thanksgiving weekend. In this age of box store gift giving, it's refreshing to be able to experience and support so many local crafters in one central location.
"The authentic meaning and application of artisan alludes to a simpler time when people took pride in their craft: It's about special and unique. [An] Artisan is…defined as: 1. a person skilled in an applied art; a craftsperson, and 2. a person or company that makes a high-quality, distinctive product in small quantities, usually by hand and using traditional methods." For the third year in a row, this twice annual Artisan Market showcases almost 100 vendors from across our region.
This passion for goods produced locally by small, family businesses is growing exponentially. American Express estimates that in 2014 alone, $14.3 billion was spent at small independent businesses on Small Business Saturday alone.
Market coordinator and long-time Shipwreck Beads staffer Kelsy Vincent is excited by the event's growth. While the overall format remains unchanged, there will be more vendors and food provided by the Galley Cafe inside Shipwreck Beads amongst others, sponsored in part by 94.5 Roxy Radio who will be live streaming from the event.
There will also be hands on 'Make and Take' activities sponsored by Swarovski, a perennial fan favorite. At the 2014 Artisan Market, attendees made Christmas ornaments featuring the gorgeous, sparkling crystals.
The event is free to attend but Vincent is proud to offer "a food drive to give back to the community." For either two cans of food or $1 a ticket, visitors are entered into drawings for an array of prizes and gifts. All money and donations will benefit the Thurston County Food Bank during this often difficult time of year.
Whether you're stocking up on jewelry, baked goods, or quilts, you're sure to find all that and more at this year's Artisan Market. Applications for vendors are filling up fast but you can find the Booth Registration Form online. Space will be granted on a first come, first served basis so apply soon.
Advertised as the world's largest selection of beads, Shipwreck Beads is a true Thurston County treasure. From humble beginnings in the 1960s, they've grown into a 22,000 foot showroom with beads and jewelry-making supplies galore. Drop in to take a class or just browse their stunning inventory on a rainy afternoon.
You can find updates on November's Winter Artisan Market on Facebook or by following the Shipwreck Beads Facebook page. The Artisan Market will take place at 8560 Commerce Place NE. Give them a call at 360-754-2323 with any questions.