It's a safe bet that most people who work for non-profit organizations want to make a difference. So when a for-profit business comes along and increases the number of people they can serve while boosting the impact they can make for individual families, it makes them happy.
"You feel better when you can do more," says Shawna Dutton, marketing and outreach supervisor at South Puget Sound Habitat for Humanity. "Being able to work with a giving community organization like Anchor Bank has created additional relationships and added capacity. It makes me smile all the time."
Dutton is referring to Habitat for Humanity's Partner Plus program, which Anchor Bank has sponsored for the second year. While Habitat is best known for building homes for low-income families, through Partner Plus they're able to offer home ownership training and financial literacy to families who are struggling.
"Before, when someone applied, we didn't have the staff to give them financial literacy and home ownership coaching," says Dutton. "Now we have a dedicated person. Part of Anchor Bank's sponsorship allows us to hire a part-time person to orient new families and do outreach to find new families."
Anchor Bank has been a partner of Habitat for Humanity for more than eight years, most recently through Partner Plus. For Sam Newberry, Anchor's vice president of sales and marketing at the bank, it was an obvious choice. "We are involved with Habitat for Humanity in Grays Harbor and I noticed that we weren't in Thurston County," she says. "We reached out to them. They're a great organization."
Newberry says the team at Anchor Bank appreciates the opportunity to support something that includes a teaching component. "It's a hand up and not a hand out," she says. "People put in so many hours before they get into their house. They have to go through credit counseling and learn about how important the house is. It creates a pride of ownership."
The bank's support has made many things possible, says Dutton. "We've been able to double the amount of orientations we can do," she says. "We aren't doing group orientations any more. Doing them one on one, we can offer financial literacy training and education on how to conduct a family budget and save for the future."
Additionally, she says, they're able to reach more people and hugely reduce their response time. "It used to take us 28 days to get back to someone," she says. "Now we get back to them in under a day." They've also been able to update all of their home ownership marketing materials, both digitally and in print.
Learning about how to manage money is important for Habitat families in part because of the income they're able to save. "The average cost of a home in Thurston County is $1,200 to $1,300 a month," says Dutton. "Our homes are $750 per month. That's a huge cost savings. It's about knowing what to do with that extra capital." The training allows families to build equity for the first time, she says. "They can send their children to school and improve their health."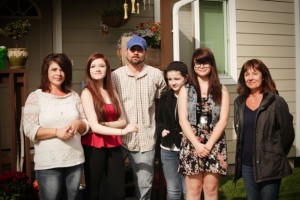 Joy Mickael's family was one of the first to experience the new program, and it made a difference. "We only got a little taste of it, but it was really helpful knowing where we stand financially and having new resources available to us for getting out of debt. We got to understand how negative that debt is and how it drags us down as a family," she says. "Being in a Habitat house lightens our load considerably so that we can get a grip on the debt."
Mickael wasn't aware of Habitat for Humanity until her husband started working for them. "It's an amazing organization," she says. "They've been able to help bring a sense of stability back to our family through a really hard time. The workers have opened their arms to us." She is battling spinal cancer and credits Habitat with getting the family into a good, affordable house. "We were in a really bad situation before," she says.
For anyone in a similar situation, she recommends the program. "I would tell them to put forth the effort," she says. "It's beyond worth it."
The Partner Plus program is still young, but it's clearly already creating benefits within the community. "We're producing more financially literate families," says Dutton. "It's exciting."
Dutton appreciates the support from Anchor Bank. "They're one of our oldest community partners," she says. "It's been great to develop those relationships with people that we love and respect and who are pulling for our mission."
To learn more about Anchor Bank, visit www.anchornetbank.com. Habitat for Humanity South Puget Sound can be found at www.spshabitat.org.