By Kathryn Millhorn
Like many people, I start the New Year doing at least one thing I've never done before.  It's seldom very exotic and always a fun challenge.  This year it was crafting.  I'm an avid cook and determined gardener but that's where my handiwork skills end.  So when the opportunity arose to take a Beading 101 class at Lacey's Shipwreck Beads, I jumped at the opportunity.
Beading is a hobby which can span an approachable range of costs, abilities, and results.  With no training and only a few dollars, crafters can make beautiful jewelry to wear, gift, or sell.  The required supplies are minimal and with a little training, the results grow exponentially in complexity and detail.
Shipwreck Beads has been a Thurston County institution for over 30 years.  From its humble beginnings as a nautical themed gift shop, the business transitioned to a bead store.  Glenn Vincent and Douglas Boling then began to make the craft show circuit and sold their beads at Native American Rendezvous.  Shipwreck Beads has grown into a huge showroom and internet presence across our region.  They now host classes, an Artisan Market, and participate in Small Business Saturday events.
The Beading 101 class is taught in-house by Kelsy Vincent, an employee who began with Shipwreck while still in high school.  She's been with Shipwreck off and on for over 8 years, now teaching and helping develop their online presence.  She is joined by a second instructor, Beth Simmons.  In between writing blogs and maintaining their social media side, she's an amazing teacher of novice crafters.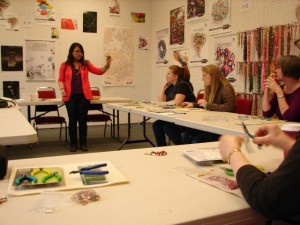 Classes are often limited to 10 students since hands-on time with equipment and one-on-one instruction is vital.  In our session there were 6 students, mostly beginners and home beaders; one was a return student to Shipwreck.  She'd enjoyed introductory classes previously and we were all eager to tackle the day's material.  Our registration fee covered an assortment of jewelry making hardware, a bag of multi-colored beads, a supply list for later projects, and a shop coupon.  Through skilled, patient teaching, Kelsy lead us through techniques for crimping, designing, measuring, and manufacturing a complete (and gorgeous, if I do say so myself) bracelet and pair of earrings.  The materials left over were more than enough for additional pieces or further embellishment of our jewelry.
The store staff encourages questions and will gladly help with projects.  Kelsy said it's not unusual for beaders to bring in a magazine picture to replicate and employees love the challenge of complex pieces.
As a total novice, I was overwhelmed by the sheer quantity of materials available in their massive showroom so brought along a crafty friend for help.  Rebecca Anderson is a master quilter and designer, much more comfortable with the hands on creative process.  After our adventure, she said she thoroughly enjoyed the class. "I had strung beads before but didn't know what the proper tools were or how to use them.  The teacher was clear and helpful.  We learned some basic techniques and she showed us examples of jewelry pieces that used those techniques in more advanced ways.  Inspiring!   I appreciated that we got to choose from many styles of beads and that in class we finished a bracelet and pair of earrings.  It was friendly, fun, and creative—my favorite environment," reports Anderson.
Shipwreck Beads also offers training in wire working and metal clay.  I can't wait to sign up for the next class!