By Douglas Scott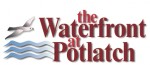 The natural beauty of Washington's Hood Canal is known for a lot of reasons. From amazing lodges, stunning camping, fantastic hiking and jaw-dropping mountains, wilderness lovers from across the globe discover and fall in love with the wild side of the Olympic Peninsula. Despite becoming one of the fastest-growing destinations for tourists to the region, few who live near or visit Hood Canal know of the majestic waterfalls that dot the region. Tumbling down from the rocky peaks above, the waterfalls of the Hood Canal are stunning and need to be seen often.
Around the Hood Canal region, there are hundreds of waterfalls of all shapes and sizes. While many are tucked away in wilderness or along steep and remote trails, there are nine waterfalls that are accessible, gorgeous, and worth your time and effort. From roadside waterfalls, to those that require short or long hikes, the falls of Hood Canal are yet another reason why you need at least a weekend to explore the beauty of the region. This list doesn't include every waterfall along Hood Canal but will get you to the most classic, iconic and gorgeous ones around.
Roadside Falls
Height: 75 Feet
Best Season: Year Round
Located at the end of the road along the Hamma Hamma River, this hidden waterfall is best known by locals for the beauty and stunning location. Tumbling down 75 feet, this two-tiered waterfall is hard to see in all its glory. The bridge on the road crosses nearly directly over the falls, giving a staggeringly steep view for those brave enough to look straight down. To see the whole falls, there is a primitive, slippery trail a few hundred feet before the bridge. However, this trail is dangerous. Don't let that keep you from visiting. Even if you only walk across the bridge, the falls are gorgeous, both up and downstream.
Height: 125 Feet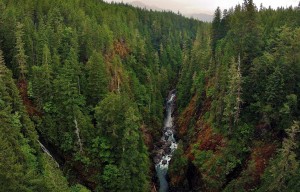 Best Season: Fall through Spring
Vincent Creek Falls is really two awesome destinations in one. Located along the South Fork of the Skokomish River, Vincent Creek Falls is visible from the High Steel Bridge, some 420 feet above the river below. The falls are visible while looking upstream, on the left side of the bridge, giving a stunning, watery addition to an already incredible view. As if you needed another reason to come here, the High Steel bridge was originally built in 1929 and is on the National Register of Historic Places. With amazing views all around, do not miss the chance to see this waterfall and amazing bridge.
Height: 229 Feet
Best Season: Year Round
Quite possibly one of the most scenic "roadside" falls on the Olympic Peninsula, Rocky Brook Falls tumbles magnificently down a rocky cliff just a few hundred feet from the Dosewallips Road. Branching out and cascading down against the rocks, Rocky Brook Falls is a great example of a horsetail falls, ending in a nice pool. In the summer, this waterfall is quite crowded, while the winter and spring months have the highest amount of water. Be aware that to get to the best view of the waterfall, you will have to climb over a few rocks.
Short Hikes to Waterfalls
Distance: 1.6 Miles Round Trip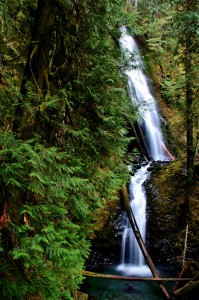 Height: 170 Feet
Best Season: Year Round
Murhut Falls is one of the classic short hikes on the Olympic Peninsula. Cascading down 170 feet over two tiers, this beautiful hydrological destination is at the end of a family and dog-friendly trail. The short trail leads to a nice viewpoint of the falls, complete with a bench and railing. Those more adventurous can climb down to the falls and explore both tiers, though please be aware that rocks and logs can be quite slick. Murhut Falls, for many, is the iconic waterfall on Hood Canal and if you see it, you'll agree.
Distance: 1.5 Miles Round Trip
Height: 200 Feet
Best Season: Fall through Spring
This seasonal waterfall is often not visible during the summer months, making it the perfect, off-season waterfall destination at the top of Hood Canal. Located at the Falls View Campground, this seasonal falls requires a walk along a well-maintained trail to a great view. Tumbling down into the Quilcene Canyon, Falls View Falls is best seen after a rainy few days. For those up for more beauty, head down into the canyon along the same trail. This pretty waterfall is not just a great place to stop and stretch your legs after making the journey up Hood Canal but is also a fun, short hike.
Distance: .5 Miles Round Trip
Height: 25 Feet
Best Season: Year Round
Ludlow Falls is unique to the small creeks that dot the Olympic Peninsula. While small creeks flow mostly flat toward the water, Ludlow Falls exists because of a large obtruding chunk of basalt, creating the falls. After a nice walk along a well-maintained interpretive trail, this two-tiered waterfall dumps almost directly into the waters of Hood Canal and gives stunning views upstream. Do not pass this waterfall up, as it is gorgeous and gives you a chance to both learn about the region and stretch your legs!
Distance: 2.5 Miles Round Trip
Height: Variable
Best Season: Fall through Spring
While Staircase Rapids isn't technically a waterfall, after heavy rains the North Fork of the Skokomish River transforms into a turbulent set of steep drops, tossing logs downstream like toothpicks and tumbling giant rocks under the churning water. With a great loop hike over a suspension bridge, walking along and over the Skokomish River during a storm is something everyone should experience. As an added bonus, pay attention to the side of the road driving here, as numerous small, seasonal falls line the roadway. A great one is just after the turn for the Mount Rose Trail.
Backcountry Falls
Distance: 14 Miles Round Trip
Height: 25 Feet
Best Season: Spring through Fall
To get to Donahue Creek Falls, hikers will need to follow the route out of the Staircase Region of Olympic National Park and head toward Flapjack Lakes. The multi-tiered falls is located half a mile or so before you get to Flapjacks Lakes and can be taken as a long day hike or a nice overnight trip. As the trail becomes more steep, it soon passes next to Donahue Creek, a fun little waterfall that gives great picture opportunities, especially in the spring, winter and fall. Do not hike here without going to Flapjack Lakes; you'll regret it.
Distance: 10 Miles Round Trip
Height: 100 Feet
Best Season: Spring through Fall
Known more as a cascading falls, Dosewallip River Falls has decreased in popularity, thanks to a washout along the old Dosewallips Road. To gain access to this section of the Dosewallips River, you now have to walk or ride a bike along the old road for eight miles round trip to see this gorgeous series of cascades. From the old road, the cascading falls is beautiful, cast perfectly against the boulders and trees lining the river. Your best bet to see this waterfall will be in the spring after a heavy rain, when the temperature warms and the mountain snow starts to melt.
Thrifty Thurston highlights inexpensive family fun in Thurston County. The weekly series focuses on family-friendly activities throughout our community. If you have a suggestion for a post, send us a note at submit@thurstontalk.com. For more events and to learn what's happening in Olympia and the surrounding area, visit our complete event calendar.