By Lynn West

Wandering through downtown Olympia during Fall Arts Walk, we were delighted when we walked into Compass Rose on Capital Way. It was alive with activity and totally transformed. From the homey and ordinary, it now, according to our visiting relatives had "the ambiance of an Apple store."
Even with the wider aisles, clean lines and sharp lighting, it was impossible to take in all the changes that evening. Elbowing our way to the rear of the crowded store, we saw many inviting displays of attractive merchandise. As always, friendly staff wove in and out offering help. "Let's go back to that gift store and look around before we leave town,"suggested our guests. We did.
For a good part of the six years she has been managing Compass Rose, Alana Carr has been envisioning a new look for the store. When she and Compass Rose owner, Paul Shepherd, started developing Captain Little, the downtown toy store they co-own, they knew the time was right to modernize. Compass Rose had been unchanged since 1998 when Paul moved his store to its current location on Capitol Way after ten years at the Mall.
Moving the large children's section to Captain Little in the former Wind Up Here space gave Compass Rose room to expand. Alana explained, "We hadn't really even painted the walls in the last 17 years, so the time was right, and we wanted to make an investment into downtown." Many familiar handbags, candles and journals are tucked into beautiful displays among new and, in some cases, expanded lines.
Compass Rose has been my go-to store for unique gifts and beautifully wrapped packages, and I have never lacked the help of the staff when I needed it. After casually talking to Emily Hennig and Chrissy Bunell over the years, I finally formally met them. "Emily has worked here for five years, and I have been here for seven," Chrissy told me. "We do not have much turnover, so we know our store very well."
Emily detailed several additions to the many "lifestyle" collections the store has carried. Clothing lines, such as outdoor specialist Woolrich and a brightly hued selection of unisex socks are new. More space has also been given to the unique supply of kitchen items and eclectic cookbooks.
Jewelry is now beautifully showcased and it's much easier for the buyer to select from the many intricate styles. The additional open space allows for more special events, such as an upcoming Margaret Solow jewelry trunk show.
Alana explained that the Compass Rose buyers try to offer local products as often as possible. "Many of the items in the store are from the Northwest region. Since both our Olympia and Tacoma stores are about mid-way between Portland and Seattle, we showcase artisans from those areas." She added that most of their jewelry is handmade in the United States.
Fine food items, such as caramels, chocolates, honey, tea, and various specialty salts are always popular. Chrissy said, "It should be easy for folks who are on their way to a party to be able to stop by and find some local consumables to take with them." With the holidays approaching, this is definitely an idea to store away.
"We have also expanded our stationery," Alana added, "but we keep in mind that our customers may have a different sense of humor in the cards they choose than ones they might find elsewhere."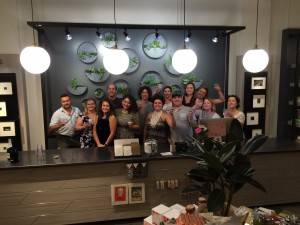 She stressed how important collaboration is for downtown merchants.  "If we don't have a product that fits a customer's needs, we know where to send them. For example, we do not complete with Olyphant, which specializes in professional grade art supplies, and we decided not to apply for a liquor license because Little General sells wine." She added, "Everybody does better when everybody does better."
Compass Rose takes that saying to heart since they donate 10% of their revenue to local and international non-profits. GRuB, Community Youth Services, Syrian refugees, Doctors Without Borders and Unicef have been recipients over the past few years.
Alana told designer Sean Sifagaloa, that she wanted the store to "feel like vacation." She had seen his design of the Gastropub, Good Bar in Pioneer Square in Seattle, and knew he was the one who could do it. "It needed to be light and airy, have clean lines and be adaptable for the next ten years."
Local businesses helped create Alana's vision. Contractor Greg Lopez worked with Martin Furniture, who made the white wood shelving and Zeigler's Welding, who created the jewelry cases. Gordon's Garden Center in Yelm created the wall of live succulents behind the sales desk. Plants, available for purchase, will be changed seasonally.
Expect the same great service, but enjoy a new shopping experience the next time you visit Compass Rose.  Follow Compass Rose on Facebook or Instagram.
Compass Rose
416 Capitol Way S in downtown Olympia
360-236-0788