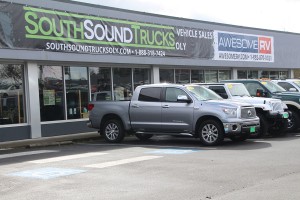 Summer is here and your calendar is full with fun-filled getaways and adventures. There is just one tiny problem: your commuter car does not have the power you need to tow, climb and tackle the off-road routes you have penciled in on your summer itinerary.
Like with any vehicle purchase, choosing the big rig that best suits your needs and budget is important. With a wide selection of used trucks, jeeps and SUVs, and a knowledgeable staff who can help you navigate your way through your options, finding the right pickup or sports utility vehicle is easy at South Sound Trucks in Olympia.
From boating and camping to home improvement projects and more, many of the activities people enjoy during the summer months require a little bit more horsepower than a sedan can provide. Because of this, South Sound Trucks in Olympia is not surprised that the days between June and September are its busiest of the year.
"Right now, this is when our season really turns on," said South Sound Trucks' Sales Manager, Brian Edwards. With camping season just beginning, Edwards said people are flocking to the lot in search of powerful vehicles equipped to tow their campers, boats and other gear.
For serious campers who plan on doing a bit of off-roading, Edwards recommends Forerunners, Pathfinders and jeeps for hauling your tent and coolers to the campground, with Jeep Wranglers being one of the dealership's top sellers.
Of course, if you have a bigger haul to tow, Edwards recommends a 250 or 350 diesel truck for pulling boats and campers. "You can pull your travel trailers, dirt bikes and quads. A 250 or 350 diesel truck will pull all of that," said Edwards. And you will not have to retire your truck come winter if activities like snowboarding and skiing pique your interest. Edwards said these trucks pack a big punch of power for climbing snow-covered mountain passes in the winter.
With more and more trucks featuring bigger, roomier cabs, Edwards said smaller F150s like Chevy Silverados and Toyota Tundras are ideal for towing small boats and trailers, all while providing room for the whole family to squeeze in. In fact, Edwards said with more spacious interiors, F150s are becoming a modern-day replacement for once popular minivans, offering parents the versatility of two vehicles in one.
When it comes to choosing which truck, jeep or SUV is right for you, Edwards said the best way is to simply visit South Sound Trucks in Olympia firsthand and seeing what is available on the sales lot with your own eyes. "Come down to the dealership and drive a few," said Edwards. "Depending on what activities you are into, we can pick out two or three vehicles that match your interest."
Edwards said at the end of the day, it comes down to personal preference. "We sell pretty much every make and model, and if we don't have exactly what you want, we have the ability to go out and purchase what you're looking for," Edwards explained. As part of I-5 Cars, South Sound Trucks has access to hundreds of trucks, jeeps and SUVs, so even if you do not see what you are looking for, South Sound Trucks in Olympia can help you find the pickup or sports utility vehicle you want.
And with South Sound Trucks' new accessory shop, Edwards said it is easier than ever to outfit your truck, jeep or SUV with aftermarket-everything. From LED light bars and custom bumpers to tinted windows and more, South Sound Trucks' accessory shop has everything you need to personalize your new ride or update your old one. "We do it all," said Edwards.
If you are thinking about adding a vehicle to your driveway that can better accommodate your summer adventures, South Sound Trucks is a great place to start your search.
South Sound Trucks in Olympia is open Monday through Friday 8:30 a.m. to 8:00 p.m., Saturday 8:30 a.m. to 7:00 p.m., and Sunday 10:00 a.m. to 6:00 p.m.
For more information about South Sound Truck, visit South Sound Trucks' website or call South Sound Trucks in Olympia at 888-289-5111.