By Douglas Scott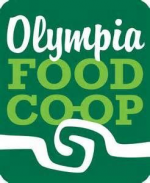 Last year, we brought readers four incredible and memorable backpacking destinations for you and your family in and around Olympic National Park. The article, which included tips for hiking and backpacking with family, as well as some backcountry basics, helped inspire families of all ages out into the wilderness of Olympic. This year, Olympic National Park has already seen over a million visitors, and campsites in the front and backcountry campgrounds are quickly filling up at America's sixth most popular National Park. To help plan your trip, check with Olympic National Park officials to see if backcountry reservations are required for your area.
2015 is so far the driest year since 1895 on the Olympic Peninsula, helping drive visitation numbers higher than normal. However, despite the excellent camping conditions, there are a few things to talk about before we get to five awesome places to backpack with your kids. The first is campfires. Campfires are currently banned in all backcountry camping areas, and only allowed in approved fire areas at the front country campground. This means that if you want a campfire, you are out of luck in most places. Camp stoves are permitted, but please use them with care. A 1,000+ acre fire is burning in the Queets Rainforest, and fire conditions are expected to last until September at the earliest.
The second issue that needs to be addressed quickly, before your trip starts, is how to deal with waste while backpacking. All garbage needs to be packed out, including peels of fruit. The wilderness of Olympic is a diverse ecosystem that is mostly full of local species of animals and plants. Please do not mess with this by leaving orange peels or any other trash out in nature. Pack it in, pack it out, and help keep wilderness wild. There have been closures of a few areas in Olympic already this year due to careless hikers leaving food and trash around. Be a good steward of the land and carry everything out. Also, when using this bathroom in the woods, please follow these excellent tips from backpacker.com.
Marmot Pass
Directions to Trailhead: http://goo.gl/maps/CE0ak
Distance: 11.5 Miles Round Trip
Camp Sites: 2 main camping areas, and numerous unofficial sites
Best Camp Area: The saddle of Marmot Pass
What Makes it Great: Marmot Pass is an excellent day hike, considered by most to be the "must-hike" trail of the Olympic Peninsula. It is also an incredible backpacking trip for those looking for short distances, incredible views and some of the best stargazing, sunrises and sunsets around. With two campsites located along the trail, each about 3-miles from each other, Marmot Pass is great for first time backpackers, or those camping with young kids. Be aware that water may be scare in places, especially with the current hot summer we are having. Also, campsites in the established backpacking campsites fill up quickly on the weekends, seeing as many as 100 people on good weather days. get here early, explore the region and stay up watching the stars.
More Information: http://exotichikes.com/hike-the-olympic-peninsula-marmot-pass-in-the-buckhorn-wilderness/

Hoh Rainforest
Directions to Trailhead: http://goo.gl/maps/UxwqW
Distance: Up to 34.8 Miles Round Trip
Camp Sites: Seven main campsites leading to Mount Olympus
Best Camp Area: Glacier Meadows
What Makes it Great: Backpacking in the Hoh Rainforest is a rite of passage for Pacific Northwest residents. With a mostly flat trail through lush green surroundings, the trail skirts along the Hoh River, giving glimpses of mountains, deer, elk, and more. The trail starts at the popular visitor center in the Hoh Rainforest and heads upriver, eventually leading to the glaciated flanks of Mount Olympus. While most will not hike that high up, the entire trail is easy to follow and well-maintained, making it perfect for families of all ages and abilities. Whether you choose to just camp at 5-Mile Island or try to get up to the remote and beautiful Elk Lake, backpackers are rewarded with beautiful views and experiences each mile. Serious backpackers can use this route as an entry point to not just Mount Olympus, but also as a back entrance to the High Divide and Seven Lakes Basin, one of the park's more popular backcountry destinations.
More Information: http://www.nps.gov/olym/planyourvisit/hoh-river-trail.htm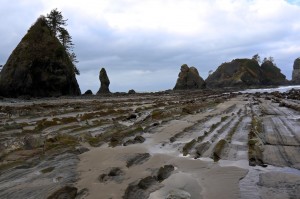 Point of the Arches and Shi Shi Beach
Directions to Trailhead: https://goo.gl/maps/5DaCQ
Distance: 8.5 Miles Round Trip
Camp Sites: Three coastal campsites
Best Camp Area: Point of the Arches
What Makes it Great: Backpacking and camping along Washington's wilderness coast is yet another quintessential backpacking destination on the Olympic Peninsula. With 73 miles of wilderness coast to explore, one of the best and most popular destinations is Shi Shi Beach and Point of the Arches. The often muddy trail to the beach is short, easy to follow and leads to one of the most photographed series of sea stacks on the Pacific Coast. With incredible sea stacks, millions of small tide pools and the site to jaw-dropping sunsets, this short, family-friendly destination is sure to be a family favorite. Reservations are required during the summer months, and can be picked up from the Wilderness Information Center (WIC). Even with reservations, the best sites fill up early in the morning on summer days, as you are reserving a permit, not an individual spot.
More Information: http://www.nps.gov/olym/planyourvisit/north-coast-route.htm
Lower and Upper Lena Lake
Directions to Trailhead: https://goo.gl/maps/2sjgb
Distance: Up to 14 Miles Round Trip
Camp Sites: Numerous, with 28 sites at Lower Lena
Best Camp Area: Upper Lena
What Makes it Great: Upper and Lower Lena Lake are some of the most popular backpacking destinations along the Hood Canal of the Olympic Peninsula. Located above the Hamma Hamma River, the route to Lena Lake is paved and well-marked, helping with it's popularity. ThurstonTalk has already written a great piece on Upper and Lower Lena Lake, which should be read. Be aware that the campsites at Lower Lena Lake can fill up early on weekends, so getting a head start on the trail is recommended. Upper Lena will fill up as well, but is less common. However, Upper Lena offers far greater views and makes for a more backcountry camping feel, serving as a great introduction destination for those looking to expand their wilderness experiences. Upper Lena has great sunrises, sunsets and exploring opportunities right from your campsite, making it one of the classic destinations.
More Information: http://www.nps.gov/olym/planyourvisit/upper-lena-lake-trail.htm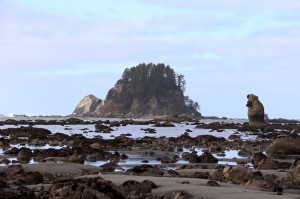 Ozette Triangle
Directions to Trailhead: https://goo.gl/maps/gDOb0
Distance: 9 Miles Round Trip
Camp Sites: Two areas
Best Camp Area: Cape Alava
What Makes it Great: Ozette is considered by many to be the greatest backpacking/day hike on the coast of Olympic National Park. While the region is remote, the trail to the coast starts near Lake Ozette before working its way through forests and swampland, eventually dumping you out onto the rugged and wild coast. The coast is historic and beautiful, getting backpackers to regions usually unseen by the masses that flock to Olympic. With ancient petroglyphs etched onto Wedding Rock, hiking Ozette is like stepping back in time. Along the hike, look in tide pools, watch seals and otters, and keep an eye out for gray and orca whales swimming off shore. Once the day ends, kick back and enjoy one of the greatest and timelessly beautiful sunsets on the Pacific Coast. Be aware that bear bins are required, but not for bears. Raccoons have been quite aggressive toward food in the area.
More Information: http://www.nps.gov/olym/planyourvisit/ozette-loop.htm
All photos courtesy Douglas Scott.