By Nikki McCoy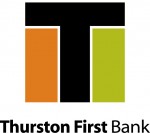 It's hard to believe it's been 36 years since the first production of Music in the Park, an annual summer concert series in downtown Olympia.
Since 1979, Sylvester Park has been home to this awesome event, which appeals to all ages and is cost free. Every Wednesday, beginning July 8, music-lovers are invited to experience live music in a great setting, with the park's gazebo acting as center stage.
If only those gazebo walls could talk, I'm sure they would share tales of beautiful dances, eccentric music and unusual costumes and of laughter, picnics and memories made.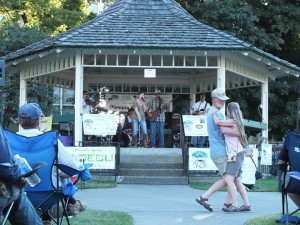 While those gazebo walls can't speak to the event, Kim Combs, event and volunteer coordinator for the Olympia Downtown Association (ODA), can. The ODA took over production of the music series in 1991, and continues to value its draw.
"I believe Music in the Park is important to downtown Olympia for a few reasons," says Combs. "First, and most importantly, it gets people downtown…Downtown Olympia has so much to offer whether you're coming down as a family, with your girlfriends, or for a date night. You get to come to a beautiful historical park and enjoy food from any number of restaurants within walking distance of Sylvester Park."
"Number two," she continues, "is we have amazing merchants that are just waiting to see you and share their product with you. It's an exciting time in downtown Olympia with new businesses choosing to settle in. It's important that we support our local businesses."
And equally important as the stimulation of visitors to the downtown area, the music production is high-quality and draws from a pool of local talent, as well as touring acts.
"We like to bring in a variety of genres to ensure there's something for everyone," explains Combs. "However, I do have to give a couple of groups an extra shout out. While we support and book mostly local and regional bands, each year we have a group or two that we'll bring in from out of area simply because of the production value they bring."
This year, those groups are Abbey Road LIVE!, a Beatles tribute band out of Georgia, along with the Air Force Band of the Golden West who are bringing their 20-piece jazz ensemble, The Commanders. "Any military group is a huge draw for us and we're very proud to be highlighting them," remarks Combs.
Another concert Combs would like to mention is the August 7 event, which takes place at the Port Plaza. Every year, the ODA partners with the Port to include one Friday night performance, falling on the first Friday of August.
This concert is 90-minutes, as opposed to the other 60-minute sets. It's also unique in that it takes advantage of downtown Olympia's beautiful waterfront. This year, the group performing is Wally & The Beaves, an apropos name for a band who taps into the golden oldies.
The line-up as is follows:
July 8 – Abbey Road (Beatles Tribute)
July 15 – Blue Laces (Roots Rock)
July 22 – Little Sara & the Night Owls (Blues)
July 29 – Lukas Rose (Americana)
Aug 5 – Troubadours (Classic Rock & Blues)
Aug 7 – Wally & The Beaves (Oldies/Golden Age of Rock & Roll)
Aug 12 – Ben Potter Band (Americana/Acoustic Rock/Country)
Aug 19 – Cee Cee James (Blues/Roots Rock)
Aug 26 – Air Force Band of the Golden West (Jazz)
Concert-goers can expect a distinct, fun experience at each show, with Combs offering a few tips and reminders.
"Attendees should remember that parking is free after 5:00 p.m. in downtown Olympia, so come on down," she says. "Also, Music in the Park is a rain or shine event. We do not have an alternative location in the event of inclement weather, so please keep that in mind. Additionally, we do not have restrooms available at either venue. Parents with small children are encouraged to plan accordingly."
Thrifty Thurston highlights inexpensive family fun in Thurston County. The weekly series focuses on family-friendly activities throughout our community. If you have a suggestion for a post, send us a note at submit@thurstontalk.com. For more events and to learn what's happening in Olympia and the surrounding area, click here.